Yiwu Market Opens Up After CNY Holiday!
Yiwu International Trade City / Market / Mart
Yiwu International Trade City / Market / Mart?
Yiwu International Trade City, Yiwu International Trade Center, Yiwu International Trade Market, Yiwu International Trade Mart, Yiwu Mall, Yiwu Futian Market. These are all different names for the same thing -  a market complex with 5 districts/building all connected.
Yiwu International Trade City - District 1

District 1
This is the big brother of all the other districts. It was built in October, 2001 and put into use on Oct.22, 2002. Always busy since it's opening.
The 4-floor-building occupies a total area of 340,000 m2, and holds 10,500+ shop fronts. With escalators and cargo lifts connecting each floor.
Over 70% of products are for exporting. But most sales only speak little English.  They understand "how much?" and can show the price on their calculators with no difficulties. But further communication will need an interpreter/translator.
Fast serving restaurants, vending machines, banks are all put inside. McDonalds, Pizza Hut and Burger King are right in front of this building. 
International credit cards not working here. Cash is preferred if you buy stock (60% shops don't keep stock).
1st floor is filled with toys and artificial flowers. 2nd floor is for jewelry. 3rd floor is for jewelry accessories, art & crafts. 4th floor has big showrooms of the same line of downstairs.
Yiwu International Trade City - District 2


District 2
This District was put into use on Oct.22, 2004. It's a 5-store- building and has an area of 600,000+ m2. Over 10,000 shop fronts are cubed from floor one to floor three.
Industries of bags & cases, umbrellas & rain wear , plastic bags, shopping bags, package bags are located on floor one.
Tools, Hardware, locks and other fittings , electrical accessories, are on floor two.
Floor three is for home appliances, electronics & telecommunications, watches and clocks.
4th floor is also big showrooms. Hong Kong Mall, South Korean Mall, Sichuan Mall are also located on this floor.
Like District one, this district also has banks, restaurants, telecom companies... Best Western Ocean Premium Hotel (opens in a separate window)  is right in the middle of this district,
International Trade City - District 3


District 3
District 3 is also a 5-store-building of 460,000 m2 with 7000+ shop fronts.
Different industries are put into different floors:
1st floor and 2nd floor are for stationary & office products. There is a small section on 2nd floor and a big section on 4th floor for sporting and travel products.
3rd floor and 4th floor are for cosmetics & beauty, buttons & zippers.
All necessary facilities like logistics, banking, accommodation, catering and entertainment are also included inside.
Yiwu International Trade City - District 4


This is the youngest, but the best-bred strong brother. Opened on Oct. 21, 2008, the total area reaches 1,008,000 m2, has over 19,000 shops. Mainly for textile products.
1st floor is for socks.
2nd floor is for daily necessities / consumables / supermarket products, gloves, and hats.
3rd floor is for shoes, ribbons, laces, threads, buckles and other textile accessories,  tie, and towels.
4th floor is for bras & underwear, belts, and shawl.
Yiwu International Trade City is the most innovative, largest wholesale market complex in China, and also one of the most advanced wholesale markets in the world.  It has modern facilities like automatic roof windows, rainfall collection system and solar energy generators.
Yiwu International Trade City - District 5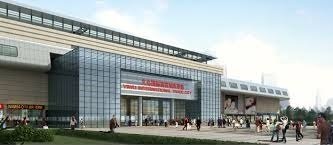 Now this district is the youngest. Opened in May, 2011, the total area reaches 640,000 m2, has over 7,000 shops. It's a 5 floor building, costing 1.4 trillion RMB, which is over 218 billion USD.
1st floor is for products imported.
2nd floor for bedding, Chinese Knot, and DIY products.
3rd floor for curtains, fabrics and textile raw materials.
4th floor for car/auto accessories.
Visiting Tips:

Wear comfortable shoes like trainers, business casual style clothes.
Take a pulling luggage for samples, a backpack for other stuff, and a bottle of water with you.
Browse according to the stall numbers, block by block, to cover as much as possible.
Ask for permission before taking photos.
Do not smoke outside of the smoking room.
Hiring a translator is necessary, but not a must-do if you just want to browse.
Related Links: 
Contact Us:

---
>> Back to homepage.