Yiwu Shoes Market
Location: 3rd Floor, District 4, International Trade City.
Opening hours: 09:00-17:00,7x365, except a 15-day-close down during Spring Festival.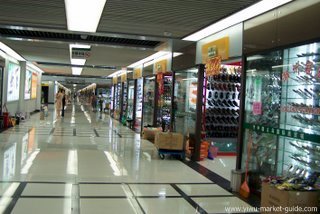 This brand new, spacious marketplace is the new home for about 2,500 stalls of wholesale shoes.
Unlike many other markets in Yiwu, having up to a 70-80% factory direct outlet centers, this market has only about 50% stalls claim their identities as factory outlet centers. The other half is made up of agents and distributors.
This is because Yiwu itself is not that strong at making shoes.
"1/2 people in the world whose shoes are produced in China, and 1/4 people in the world whose shoes are directly, or indirectly bought from Yiwu market."
This is what people say about Made-in-China shoes and Yiwu shoes market.
A stall of wholesale sandals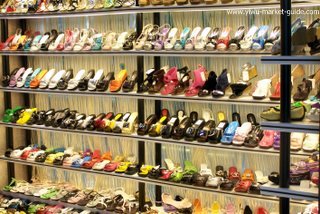 Shoes in this market are from all over China:
High quality, new style shoes from Guangzhou, Wenzhou, and Dongguan; OK quality, nicely copied shoes from Taizhou and Wenling; cheap and crap shoes from other nearby cities and towns.
The suppliers from Chongqing are strong at ladies shoes. Wenzhou suppliers are famous for leisure shoes, and Quanzhou and Jinjiang suppliers are good at sports shoes.
Most sandals and slippers are from Guangdong and Fujian province.
One interesting thing is that there are also several stalls for Made-in-Vietnam shoes and Made-in-Thailand shoes.
Shoes makers from these countries also begin to take advantage of Yiwu market as a window to introduce their products.
A stall of wholesale ladies boots
Dozens of top China brands came into this market since its opening last year, but most of the stalls are full of small brands and non-brands. The whole market is still a paradise for "Cheap price, OK quality" stuff.
Variety is beyond your imagination. Women shoes, men shoes, kids shoes, infants shoes. Shoes for ballet dancers, shoes for fire fighters, shoes for rock climbers...
Most of the stalls can OEM according to your requests.
Over 95% of the stalls inside this market do export and about 30% of them ONLY do export.
"Not for local market, not for retail" just as the notice they put on their doors to keep away not-wanted customers.
A stall of cheap wholesale slippers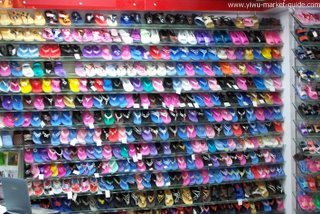 Both price and variety make Yiwu shoes market one of the most important shoe markets in China. Especially for buyers who want to source shoes from China.



Featured Products:
---
folding shoes
These folding shoes can save a lot of space. So they are much cheaper to ship in container and much easier to store back at home. No more wasting shoe boxes.
09 new style ladies boots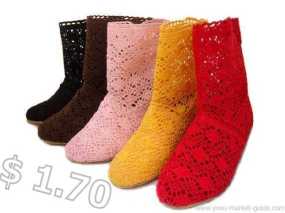 These boots can help ladies feet breathe more easily.
They're soft and light, easy and comfy. Young girls may find them very attractive.

crocs style shoes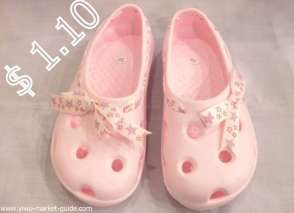 These crocs style shoes are still very hot. No matter for kids or ladies, or men.
cheap canvas shoes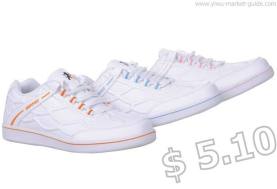 Cheap, good quality, nice patterns canvas shoes are always sold well in this market. Students and young people are the main target customers.
ladies summer shoes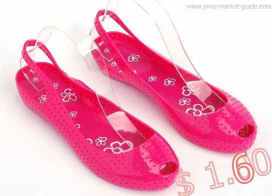 This style ladies summer shoes with a small mouth opening in the front, and many more holes in the upper are very popular in this season.
They're cute, comfy and endurable.



Dos and Don'ts When Visiting Yiwu Shoes Market
---
This is a brand new market. Has very pleasant shopping environment.
You can have a cup of coffee or chill for a good while inside the coffee bars right inside. The buffet is also nice.
Wear light, comfortable shoes. Trainers would be perfect.
Put yourself in comfortable clothes. Business-leisure would be perfect. Formal, elegant suit is rare here.
Bring a pulling luggage for samples and a backpack for other stuff.
Browse according to the stall numbers, block by block, so you can cover the most. Otherwise, you may feel frustrated to find yourself are re-browsing or getting lost.
Put some food, or at least a bottle of water, in your backpack, if you want to stay longer than 3 hours. Usually you will.
Smoke only in the smoking room or in the lobby.
Ask for permission before taking photos.
Hire a translator if you want to know more details and intend to place orders. But if you just want to look around, all the vendors have no difficulties quoting you a price with their calculators.
Related Links:
---
>> buy shoes from yiwu market



>> Return to Yiwu Market from Yiwu Shoes Market .

>> Back to Yiwu Market Guide Homepage