Buy jewelry from Yiwu wholesale market without travelling
Yiwu Toys Market
Location: 1st Floor, District 1 of International Trade City.
Opening hours: 09:00-17:00(GMT+08:00),7x365, except a 15-day-close down during Spring Festival.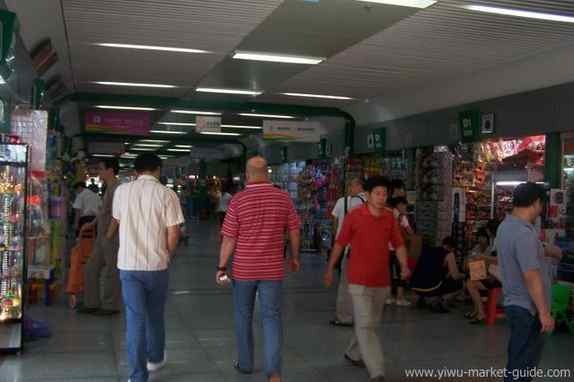 Yiwu Toys Market
Yiwu Toys Market is the largest wholesale toys marketplace in China. Toys are also one of the strongest industries of Yiwu. You can find all big China toy brands like ULTRAMAN from Guangdong and GoodBaby from Jiangsu. Of course you'll also see tons of smaller brands and local non-brands.
There are around 3,200 stalls for electric toys, inflation toys, plush toys, toys for toddlers, toys for grannies... on the first floor in district one of Yiwu International Trade City .
Many shops love playing their new or hot models outside their booth or in the lobby. The whole toys market is something like a showroom. 


A typical booth is about 4X4X3 meters, has two or three shop assistants, and displaying products as much as possible. Especially in the dolls section, many shops are fully packed with dolls.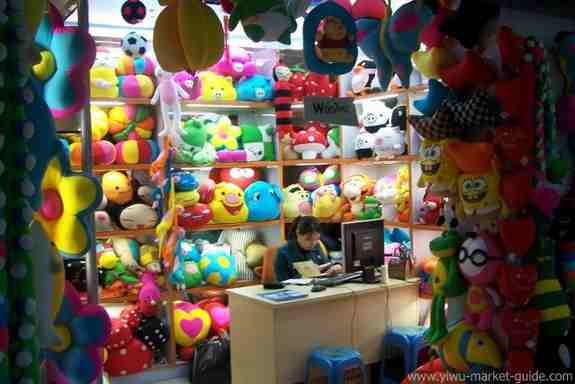 Plush doll shop in Yiwu market
The segmentation is good in Yiwu toys market is also good. You can find one stall only displaying tiny dolls, while its neighbor are having larger size ones. So it's very easy for browsing from outside.
Prices vary from a few cents for small buddies to a few hundred dollars for the newest best quality Transformers (the auto bots in the newest movie: Transformer 2), and you can find really good dollar store items here too. Minimum Oder can be as as small as dozens pieces.
Few stalls are willing to offer free samples. Most of them prefer you buy a sample first then deduct that money from your future orders. Buying a sample is usually a bit more expensive than the wholesale price.
Most of the shop assistants or shop owners, you can call them all "laoban", pronounced "Lorban", have no difficulties quoting a price or dealing with simple questions in English. But if you want to go further, you need a translator.
The service quality improved significantly after worldwide financial crisis, but the overall service level still lags far behind developed countries. 
Yiwu Toys Market Video:

Any Bargains in Yiwu Toys Market?
You can find some bargains now and then inside the market as this market is connecting with tens of thousands of factories. So there are clearance sales, or leftovers. These items are usually much cheaper, yet have the same quality.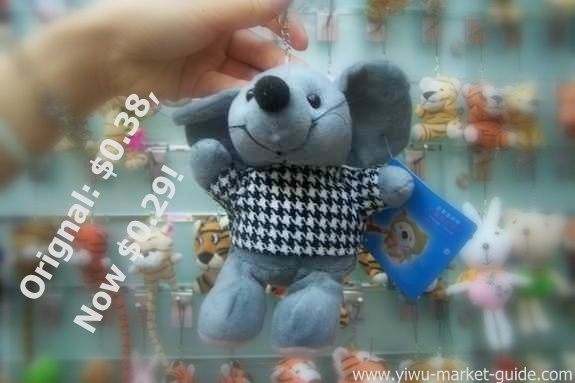 cheap stuffed toys in Yiwu market
These are clearances. You can see there is a big price gap.

Suppliers in Yiwu Toys Market: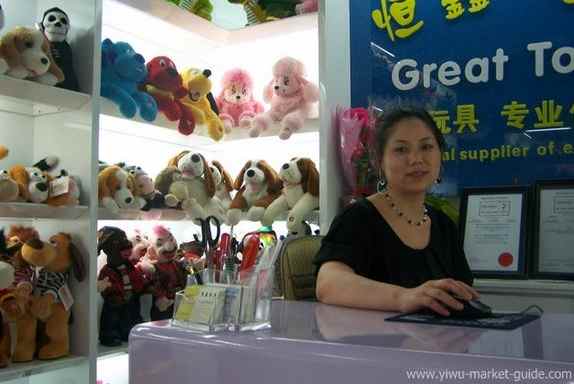 Yiwu Toys Wholesaler
Mrs. Zhou, a nice lady who can always keep things in order. I never saw her doing anything in a rush. Their factory produces all kinds of stuffed animals. You can see those inside her shop.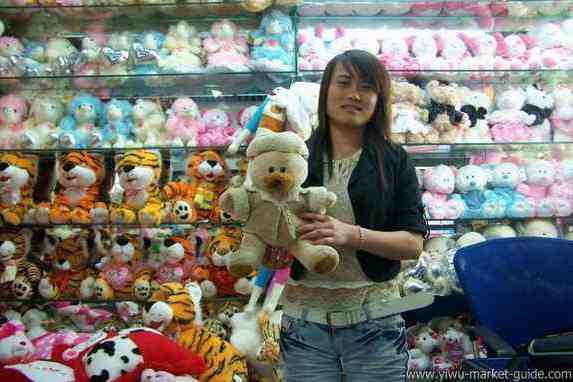 plush toys wholesaler in Yiwu market
Ms. Jiang, a warm, hard-working shop assistant. She is always ready to help. I never see her sticking on computer games or staring at the screen for funny movies.
It's lucky for any boss to have someone like this inside the shop. Their stall is for stuffed animals, and bags with different stuffed animal heads sewed on. You can see the 2nd sample in the bargain section above.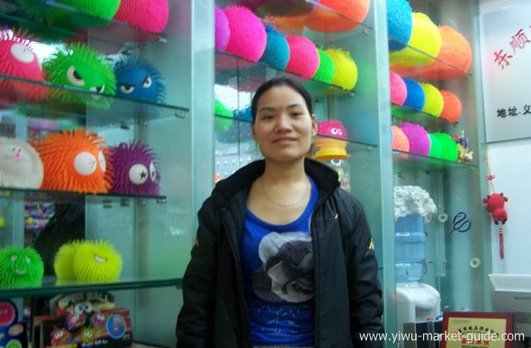 puffer ball wholesaler in Yiwu market
Mrs. Ni, a kind mom of a 5 year old daughter. She owns the booth and sells for their factory, which is located in one of the industrialized districts near Yiwu.
They only do puffer balls. You can see the ones beside her, really interesting stuff. They can also OEM according to customer's requests, for large and small quantities. 
Sourcing Dos and Don'ts in Yiwu Toys Market:

Again, light shoes, comfortable clothes, backpack or a pulling luggage for samples, and a bottle of water are all necessary. Walk slowly while browsing. Wearing high heels or walking in quick steps is big No-No.
It can take a good day if you want to have a though browsing. But it may worth your efforts, as this is another window showing you China made products and China suppliers. So take your time and browse according to the booth numbers, block by block, so you can cover as much as possible.
As the suppliers here are from all over China, prices can vary wildly from stalls to stalls. Compare, compare, compare is always a better way.
Ask for permission before taking photos.
★ See how our Yiwu agent service helps.
Related Links
Contact Us:

---
* We DO NOT sell most of the products you see on this site DIRECT. The pictures are from Yiwu market. NOT our own products. 
However, we may help you find out similar products if you provide product pictures, details & specs, quantity, and target price. 50USD/day sourcing fee may apply. Thank you!
Phone/WhatsApp/WeChat: +86 180 5896 2885

Email: mike.zhou@yiwu-market-guide.com ;
Or leave us a message below:
>> Back to homepage.