Yiwu Scarf and Shawls Market
Location(s): 4th floor, district 4, Yiwu international trade city.
Opening hours: 09:00-17:00, 7x365, except a 15-day-close down during Spring Festival.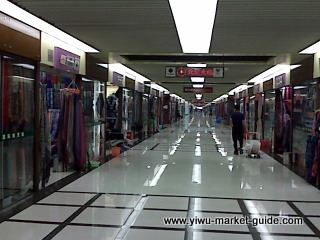 Yiwu Scarf and Shawls Market In General:
---
#1 Market scale: about 1,400 wholesale shops

#2 Market make up: 28% factories direct sell, 72% distributers and representatives

#3 Yearly transactions: 300,000,000+ pcs which values around 400 million USD

#4 Market share: 60% in China local market, 18% in global market

#5 Products origin: Hangzhou, Tonglu, Jiande, Linping, Huzhou… mostly from Zhejiang and Jiangsu province.

#6 Products range: Silk Scarves, Square Silk Scarf, Chiffon Scarves, Cotton Scarves, Linen Scarves, Knit Scarf, Pashmina Shawls, Crocheted Shawls-Scarf, Animal Print Scarf, Evening Shawls, Mens Scarves, Head Scarf, Velvet Neck Scarves, Fur Scarves, Winter Scarves, Muslim scarves…

#7 mainly exports to: USA, Japan, Korea, South Asia, Europe, and Russia.

P.S. Above data is either sited from many other resources or on-site verified by Yiwu-market-guide.com., can only serve as references. We're not responsible for their accurateness.


one shop inside Yiwu scarf and shawls market
Yiwu Scarf and Shawls Market Stocks & MOQ:
---
Most of the suppliers here are only working in a "sample-and-order" way. MOQ is usually about 100 pcs per design per color.
About 35% of the shops here can offer stocks at some extent. The stocks are either out-dated designs or the left-overs. Few shops can offer stocks for those most popular ones in production.
In these cases, you can pick up 12 pcs or even 1 pc if you insist.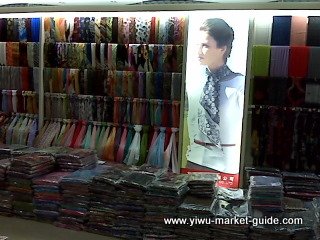 one shop with stocks
Overall, this is a good place if you are looking for variety and not-that-huge MOQ. You can imagine 1,400+ wholesale shops, each with hundreds or thousands of designs, covering half of a floor, standing there waiting for you...




Yiwu Scarf & Shawls Market Visiting Tips:
---
#1 Smoking is inside/around shops is an absolute big "no-no". You have to go to smoking room.

#2 Ask for permission before taking photos.




See Also:
---
>> Return to Yiwu Market from Yiwu scarfs and shawls market.