Yiwu Office Supplies and Stationery Market
Location: 2nd Floor, District 3, International Trade City.
Opening hours: 09:00-17:00, 7x365, except a 7-day-close down during Spring Festival.
Hello my friend, today I'd like to show you around Yiwu office supplies and stationery market. Ready? Here we go:
Yiwu Office Supplies and Stationery Market is actually, pretty new. Opened in 2005, but now it is already one of the biggest markets in Yiwu.
This market has more than 2,500 stalls for pencil sharpeners, pencil cases, pencil pouches, erasers, correction fluids, rulers, adhesive tapes, file folders, notepads, terrestrial globes, paper clips...
Just all kinds of big and small articles you need for setting up a stationary store.
one stall only for file folders
Variety is OK, styles or models maybe not as exactly as those in your mind. You may need to change them a bit here and there to meet your local customers' tastes.
Don't worry. This is not a problem at all. Most of the suppliers can do the modifications for you, according to your requirements.
The prices are extremely cheap if you get the right suppliers. A € 0.20 Euro marker from this market pen can be sold at € 3.00 Euros at a corner store in Paris.
You can have some ideas of how big the gap is, by looking at the items in What's Hot section at the bottom of this page.
rubber bands inside one wholesale stall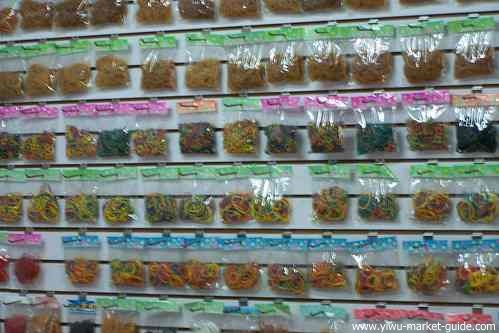 Most suppliers in Yiwu Office Supplies and Stationery Market are from Zhejiang province and Guangdong province, including many strong manufacturing cities and towns like Shantou, Wenzhou and Ningbo.
Brands stretch widely from Global brands to China top brands, to local top brands, to local small brands, then to non-brands.
Want global brands? Yiwu is certainly not a good choice although it has a few for branding.
Want China top brands? Yiwu is a good place worth a look, as Yiwu brought in most of the China top brands in recent years.
Want small brands or non-brands? Yiwu is a must-go place on your list. Cheap price and OK quality is what Yiwu is famous for, this will go on for at least 10 more years.
small brand wholesale calculator, not CASIO!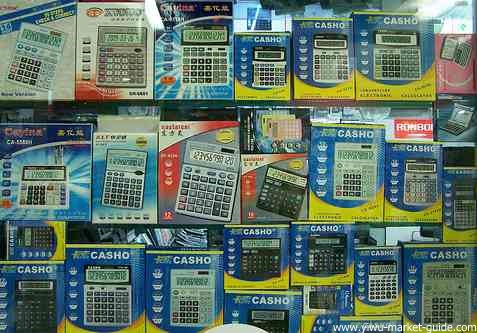 And you will also find many stalls here are just focusing on small things like rubber bands and paper clips.
These shops are full of cheap and small things. It will take you a good ten minutes to figure out how many colors and how many shapes of paper clips do they have inside one shop.
one stall only for paper clips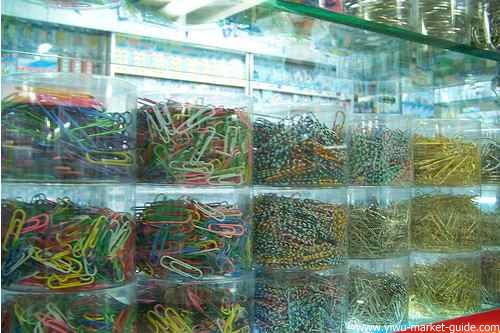 The business rat race never stops. More and more suppliers from all over China choose Yiwu market as the first place to put their newest models and quote their lowest price, for a bigger market share, or just for eyeballs.
This made Yiwu market a happy paradise for buyers. Buyers just simply come to one place and examine all China products: the newest models, the latest trend, and the bottom line prices. Then decide whether or not to place orders.
They can also easily pick up a bit of this and a bit of that just inside one building, then mix them in one container and ship back home to test market, instead of traveling all around China and contacting dozens of suppliers.
new types of adhesive tape in one stall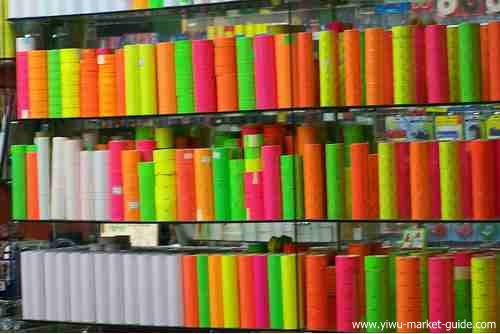 Featured Products:
an USB pencil sharpener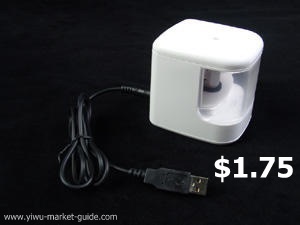 This USB pencil sharpener is new. Simple plug-and-start-sharpening style.
No more hand screw ups, no more batteries. As long you as you are near a USB port: in your office, in your car, in your bedroom. You can plug-and-start-sharpening!
This new baby can easily become a star among school kids, just like the USB mini fans on ladies' office desks nowadays.
no stables stapler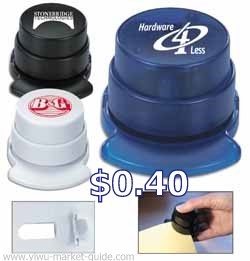 Above picture shows another new baby called "no stables stapler". It can simply stable a few pages together by pinching a hole and folding the pinched piece of paper on the other side.
But it will not work so easily if you want to stable more than 10 pages.

cheap erasers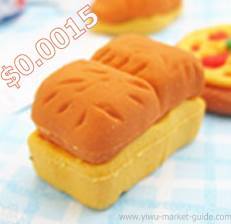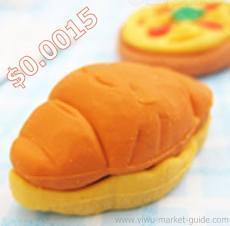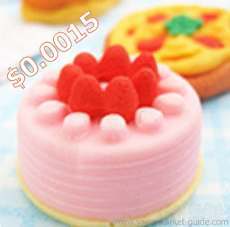 These cheap, cutie-shaped erasers are always welcomed. "They are just so cheap and so cutie that buyers cannot resist from ordering more", as told by my friend, Mr. Sun inside market.
cheap pencil pouch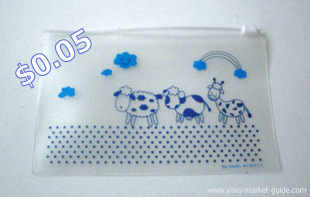 This is another piece of "cheap crap", but hot selling item. The reasons for hot selling are CHEAP and nice looking! This pencil pouch is also waterproof when zipped on.
shoes shaped pencil pouch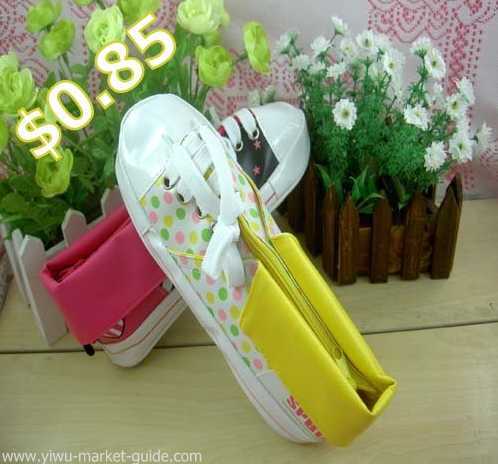 This is another hot selling product based on "eyeballs catching".
The factories near Yiwu are so good at inventing, maybe sometimes copying, this kind of stuff. Kids are always easily be attracted by "strange and new" things.
funny paper clip dispenser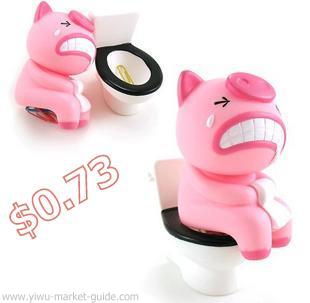 Oh, I nearly forgot this paper clips dispenser. The paper clips are either inside the basin, or sticked to the buddy's hips by a piece of magnet. Funny? um... you judge.



Dos and Don'ts When Visiting Yiwu Office Supplies and Stationery Market
Wear light, comfortable shoes. Trainers would be perfect.
Put yourself in comfortable clothes. Business-leisure would be perfect. Formal, elegant suit is rare here.
Bring a pulling luggage for samples and a backpack for other stuff.
Browse according to the booth numbers, block by block, so you can cover the most. Otherwise, you may feel frustrated to find yourself are re-browsing or getting lost.
Put some food, at least a bottle of water, in your backpack, if you want to stay more than 3 hours. They have restaurants inside, but it's all Chinese food. And it's extremely crowded in lunch hours.
Smoke only in the smoking room. If some vendors remind you not to smoke near their shops, please cooperate. Otherwise, they will be fined for not stopping visitors smoking near their shops.
Ask for permission before taking photos.
Ask for new models if you think they may have.
Hire a translator if you want to know more details. But if you just want look around, all the vendors have no difficulties quoting you a price with their calculators.
>> Return to Yiwu Market from Yiwu Office Supplies and Stationery Market

>> Back to Yiwu Market Guide Homepage