Tools and Hardware Market
Location: 2nd Floor, District 2 of International Trade City.
Opening hours: 09:00-17:00(GMT+08:00),7x365, except a 7-day-closedown during Spring Festival.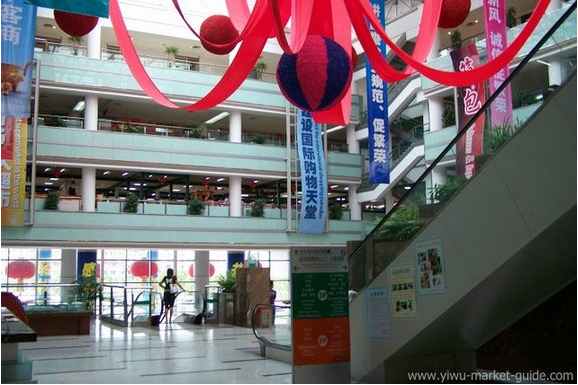 Ok, friends. Today I'm going to show you around Yiwu Tools and Hardware Market. Ready? Here we go:
Tools and hardware is another big market in Yiwu. You just need to go to G2 and F2 section of Yiwu International Trade City to see about 3,000 shops there for tools and hardware, including around 400 shops of locks and lock accessories.
You can expect more than enough pliers, screw drivers, screw driver bits and screw driver handles… on this entire floor.
About 70% of them are factory direct sale offices, around 26% are general agents, and around 3.5% are exclusive distributors. Over 80% of them are from local cities like Yongkang, Yiwu, Wenzhou, Pujiang. The rest 20% are from Guangdong and Jiangsu province.
Buyers can get a cheaper price from here than even directly from factories!
Why? Because Yiwu market is just like a big crowd, each supplier wants their voice heard. So they compete.
Many local places, like Yongkang and Wenzhou, want to use Yiwu market as a window to show buyers that they always have better prices for the same products. So they keep quoting lower prices than suppliers from other regions to build a public image.



Even you go to their factories, you may still not have such a cheap price.
Yiwu tools and hardware market earned a name for cheap and crappy products in the past, but now things are changing a little bit.
Big brands like Korean 777 nail clippers, Bosch power tools all have their agents or exclusive distributers in Yiwu market. You can also find over half of China Top Brands here.
So it's a kind of: Want brand items? Yiwu has plenty; Want crappy items? Yiwu has more! ;-)
Small mixed orders are very easy here. Variety and price attract flocks of buyers coming to this market for tools and hardware. Especially when this worldwide crisis is going on and on.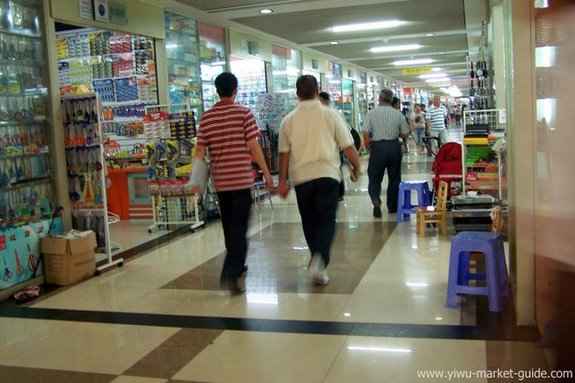 What's Hot in Tools and Hardware Market, Yiwu China?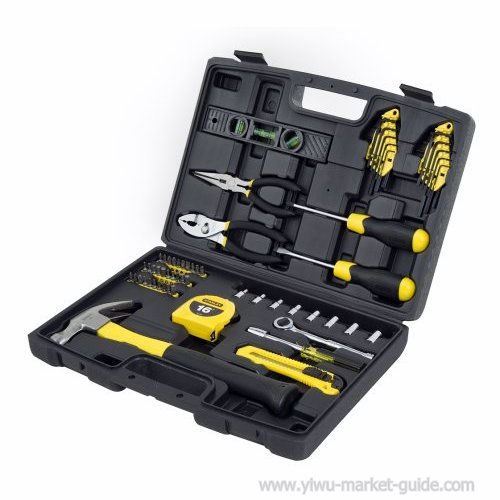 Tool sets are always hot stuff here. Buyers are keeping looking for quality and price. This tool sets is recommended by my friend Mr. Tian. They shipped out 3,200 sets last week.



Suppliers in Tools and Hardware Market, Yiwu China
Don't be miss led by the old saying that Yiwu tools and hardware market is only for crappy tools. Here I would introduce you Sally and their tools, real quality ones.
Sally inside her booth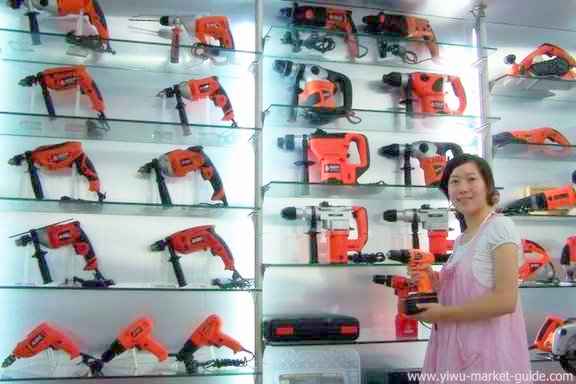 Sally is a brilliant sales manager of a big power tools producer. She is one of the few vendors I know inside Yiwu market has the right knowledge and skills.
Their company is located in Jinhua. They produce angel grinders, gardening tools, and many other power tools. The company is one of the top angel grinder producers in China.
All their products are for exporting. They obtained ISO9001 in 1997 and have GS、CE、EMC、UL and other major certificates. You can trust them on their quality.
She recommended us this angel grinder, their new star.
Below is one of their factories that can produce over $0.1 Billion USD power tools each year.

Sully with her new lock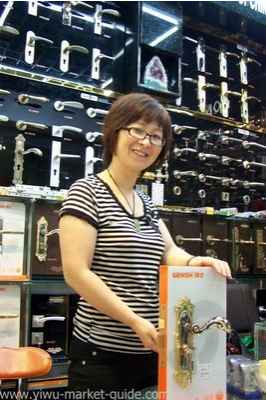 Sully, a happy lady can always do things properly. I really like her professionalism in this field and her high efficiency. Of course, everyone would like her happy smiling face.
I like to go into her shop whenever I pass by, just for sharing her happiness sometimes.
They are the general agent and exclusive distributor for many types of locks. From Top 10 China brands to smaller local brands. You may find that she can help you with anything about locks, even lock accessories.
"You can always have a better price from us, than from the manufactures. We order from the factories almost each day, how many orders can you give them? It's fair that we have a better price" She smiles.
I have to admit that agents are often stronger.
Below is a new model just came in from one of the Top 10 lock manufacturers in China.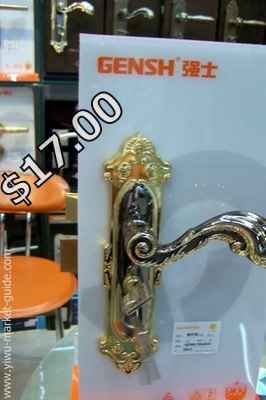 24k gold plated interface, coppery tongues and knobs, with duo-teeth keys. See the picture below: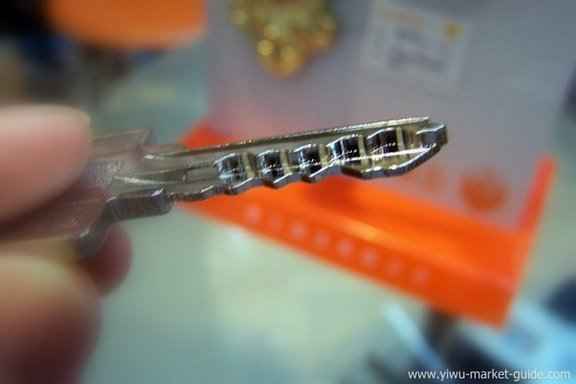 There are 0 chances to open this lock with another duplicated key, according to Sully.



Sourcing Dos and Don'ts in Tools and Hardware Market
This is another huge market inside a huge mall. 3,000 shops could easily make you feel dizzy. So arm yourself with the right equipments first.
Wear light, comfortable shoes. Trainers would be perfect. High-heels? No-NO!Put yourself in comfortable clothes. Business-leisure would be perfect. Formal, elegant suit is rare here.
Bring a pulling luggage for samples and a backpack for other stuff.
Browse according to the booth numbers, block by block, so you can cover the most. Otherwise, you may feel frustrated to find yourself are re-browsing the same booths or getting lost. The feeling of dizzy and let-me-out can be really unpleasant. I'm not exaggerating here.
Put some food or at least a bottle of water in your backpack, if you want to stay more than 3 hours. They have restaurants inside, but it's all Chinese food. And it's extremely crowded in lunch hours.
Smoke only in the smoking room. If some vendors remind you not to smoke near their shops, please cooperate. Otherwise, they will be fined for not stopping visitors smoking near their shops. They even need to write a formal apologize letter to the market operation office for letting smoking go.
Ask for permission before taking photos.
Hire a translator if you want to know everything. But if you just want to look around, all the vendors have no difficulties quoting you a price with their calculators.
>> Return to Yiwu Market from Tools and Hardware Market

>> Back to Yiwu Market Guide Homepage