Yiwu Socks Market
Location: 1st Floor, District 4, International Trade City.
Opening hours: 09:00-17:00, 7x365, except a 15-day-close down during Spring Festival.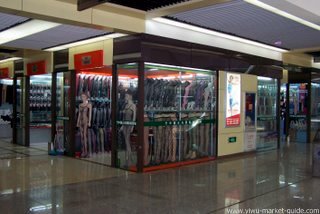 Dear friends, let me introduce you toady, the flagship market of Yiwu - Yiwu Socks Market. Here we go:
Yiwu Socks Market is a must-see if you visit Yiwu, even you do not have socks on your sourcing list. You are going to know why after finish reading this short article.
Firstly, let's have a big picture of Yiwu socks producers.
Over half of the socks in the world are produced by Yiwu and its close neighbor - Zhuji, which is one hour ride away.
So if you have 10 socks in your wardrobe, most probably, 5 of them are produced and shipped out from here.
One single socks producer in Yiwu can produce 1.8 million pair of socks per day.
I don't know what the population of your city is. You can calculate how many days should this producer work to make each your people a pair of socks.
The world biggest 5 socks producers are all located in Yiwu. One of them is even the exclusive supplier for Beijing 2008 Olympic Games. That's the first socks exclusive supplier in Olympic history.
They are also an official partner of NBA.
athletic socks with NBA logos, authorized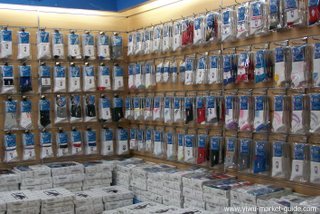 The world best socks machines like Lonati, Sangiacomo, Matec, Brothers are all put inside their workshops.
So not all of these factories are family owned small ones, many of them are the suppliers for brands like Gold Toe, Puma, Nike, Addidas, and Kettenbach.
With such a supplier base, Yiwu socks market is definitely the most important socks market in the world.
You can expect to see the most types of socks inside over 3,000 stalls here: socks for infants, socks for toddlers, socks for teenagers, socks for grannies.
a stall for kids socks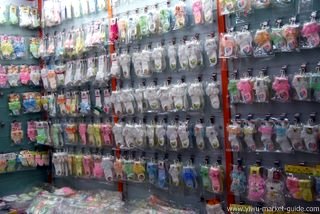 And you can also find special socks for firefighters, socks for NBA stars.
Ladies are always the main targets for socks producers , and here are plenty of socks for ladies who want to be bloody sexy, in daytime or in nights.
a stall for knee high socks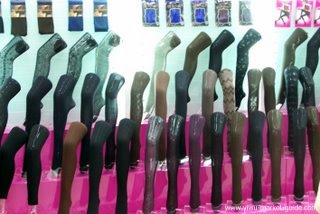 Prices are not all cheap. You can find socks of a few cents, but you can also find some wholesale prices are up to 10 US dollars.
It's hard to find non-brands socks inside the market nowadays as most of the suppliers had their own brands and trademarks registered, which is very much unlike other markets in Yiwu.
Some socks makers here are the suppliers for world top brands like Puma and Gold toe, and some others are the suppliers for retailers like Wal-Mart and Kmart. So you may also trust them on their quality.
The strong suppliers all have certificates like CSCC, WRAP and M/S.



One interesting story happened a few years ago went like this:
When Tung Chee-hwa, the Chief Executive of HK, was visiting one Yiwu socks factory, the receptionists noticed his Gold Toe socks were made right by their factory.
That pair of Gold Toe socks were actually a gift bought by Tung Chee-hwa's son in America and brought back to HK a few days ago! From this story, we can know that Yiwu is actually manufacturing for the world top brand socks.
The overall shopping environment here is also very comfortable, much the same level as some of the best shopping malls in your downtown area, although this is just a socks wholesale market.
one showroom in Yiwu socks market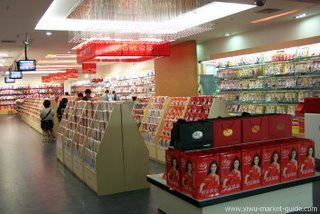 Considering variety, quality and price, Yiwu socks market would be the place you need to give a try if you need some socks to fill your containers or put on your store shelves.



Featured Products:
men's toe socks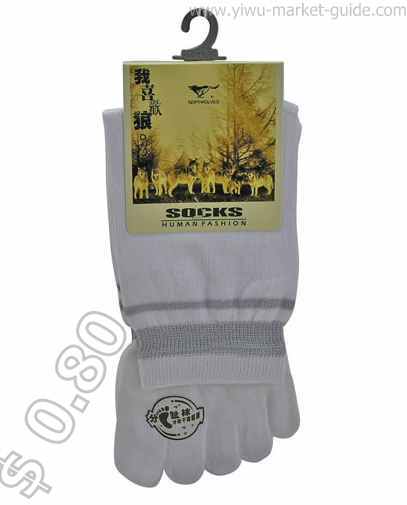 Toe socks are very popular now, both for men and women.
For men, this separated toes design can absorb sweats quickly and keep your toes dry and warm. For ladies, this design also looks cutie and smart, especially when they are in stripes.
expensive baby socks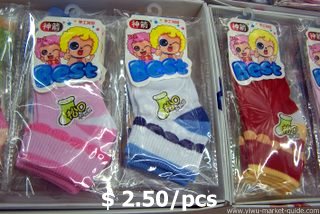 These best cotton baby socks are becoming popular day by day as babies just need more care on all aspects.
It is very expensive, "but parents love expensive socks for their babies, they're worthy every pennies you pay for them" said Mrs. Wulanfang, my old friend in socks market.
coolmax socks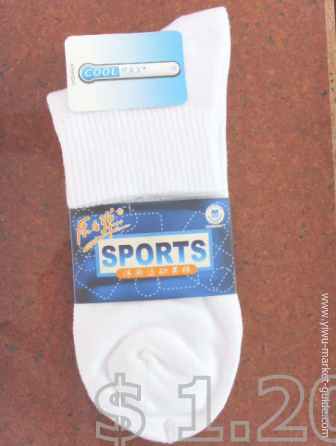 These Coolmax socks are popular, just because they are made of Coolmax, the technology invented by Dupont.They are designed to cool your feet faster.
women's socks in one case as a gift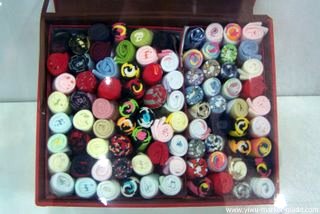 Close to 100 socks all packed in one suitcase as a gift. The shop assistant told me they are welcomed, because they are gifts!
When I thought of how many shoes my wife had back at home, I agreed that was a nice idea. Ladies may have enough choices with this case when they are matching before a mirror.



Dos and Don'ts When Visiting Yiwu Socks Market
Wear light, comfortable shoes. Trainers would be perfect.
Put yourself in comfortable clothes. Business-leisure would be perfect. Formal, elegant suit is rare here.
Bring a pulling luggage for samples and a backpack for other stuff.
Browse according to the stall numbers, block by block, so you can cover the most. Otherwise, you may feel frustrated to find yourself are re-browsing or getting lost.
Put some food, or at least a bottle of water, in your backpack, if you want to stay more than 3 hours. They have restaurants inside, but it's all Chinese food. And it's extremely crowded in lunch hours.
Smoke only in the smoking room. If some vendors remind you not to smoke near their shops, please cooperate. Otherwise, they will be fined for not stopping visitors smoking near their shops.
Ask for permission before taking photos.
Ask for new models if you think they may have.
Hire a translator if you want to know more details and intend to pace orders. But if you just want to look around, all the vendors have no difficulties quoting you a price with their calculators.
See Also:
---
>> Return to Yiwu Market from Yiwu Socks Market.

>> Back to Yiwu Market Guide Homepage