Artificial Flowers Market Yiwu
---
NEW: 4 Advantages of Yiwu Artificial Flowers Market (2020 update)
---
Location(s): 1st floor, district 1, Yiwu international trade city.
Opening hours: 09:00-17:00, 7x365, except a 15-day-close down during Spring Festival.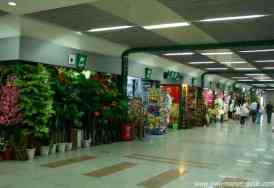 The main market is inside Yiwu International Trade City , on 1st floor of District One, sharing the same floor with toys market.
Over 1000 shops are selling artificial flowers and artificial flowers accessories there.On the 4th floor of District One, International Trade City, there is a Taiwanese owned section. You can find some really quality stuff there.
Artificial flowers market is one of the earliest local markets, has more than 10 years history.


The booths are of the same size as all other ones inside this building, about 4X4X3 meters, has two or three shop assistants, and displaying flowers as much as possible.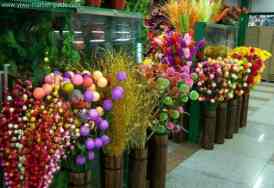 Varieties are OK, not as much as the jewelry market or toys market. Prices vary from a few cents to a few hundred dollars. Minimum Oder are accepted from dozens pieces to a few hundred.
Very few stalls are willing to offer free samples now days. But if the items you ask for are just too cheap, they may don't mind to give one free.
Many of them prefer you buy a sample first then deduct that money from your future orders. Buying a sample is usually a bit more expensive than the wholesale price.
All shop assistants have no difficulties quoting prices with their calculators. Some of them can speak easy English. But if you want more details, you may need a translator.
The service quality is just OK. Still lags far behind of developed countries. You won't be surprised to find some guys are more interested in their movies or computer games than their GOD-the customers.



Artificial Flowers Market Videos:
Any Bargains In Artificial Flowers Market Yiwu?
You can find some bargains now and then inside the market. Some are clearance sales, some are leftovers. These items usually have a 30%+ off discount price, for the same qualitiy.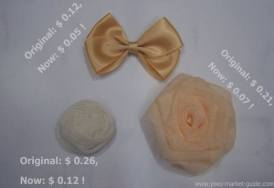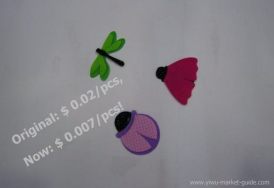 These flowers are last year stocks. You can see the price gap.



Suppliers in Artificial Flowers Market Yiwu: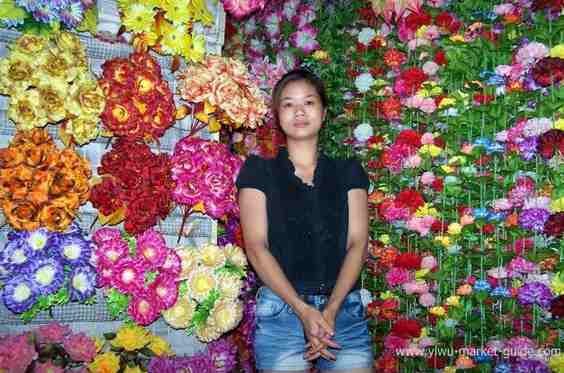 Mrs. Ding, a sweet young lady running the booth inside the market, while her husband is working inside their factory. They produce and sell all kinds of silk flowers, to both local and abroad market.
You can see the stuff beside her.
They are also very good at putting up new models. You can always expect something new inside her shop from time to time.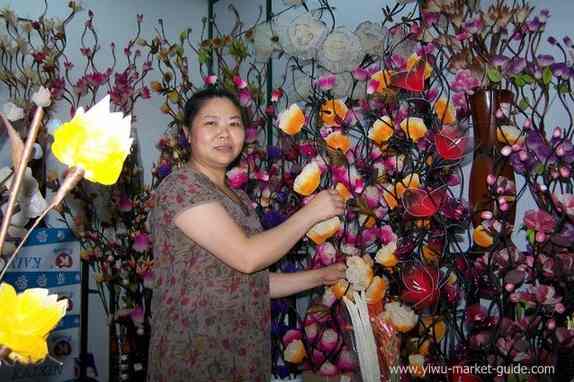 Mrs. Chen, a happy lady always in good spirit. Their factory is located in Pujiang, a very famous city for fine crafts in China. They produce dry flowers of all kinds.
She insists that I should put their new hot selling model as well. So below is the picture. With a CE adapter, no vase ;-)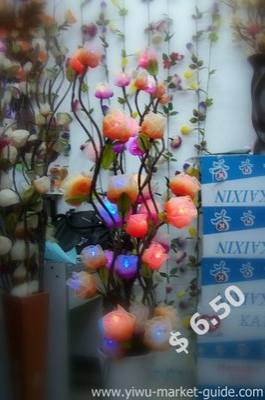 Sourcing Dos and Don'ts in Artificial Flowers Market Yiwu:
To me, this market is just the right size, not too big, yet have plenty choices. You can easily finish browsing within a few hours .
If you also want to visit other sections of this huge market, you need to save your legs with the right equipments. Like light comfortable shoes, backpack and a pulling luggage for samples.
Again, browse according to the booth numbers, block by block. So you can cover as much as possible.
Many shops have a screen right in front of their booth. This screen has two functions:
#1 To show clearly what products they are dealing.
#2 To protect their new models by hiding them inside.
So you need a bit judgment to decide whether to step in. it's not always a "what you see is what you get" pattern.
Some shop owners frown at taking photos without permission. So ask first. If they say no, you may need a bit more explanation or leave them a business card. Most of them don't care.
For all the products displaying in a shop window outside, there is no problem at all.




Related Links:
---
buy artificial flowers from Yiwu China




>> Return to Yiwu Market from Artificial Flowers Market Yiwu.

>> Back to Yiwu Market Guide Homepage