We NEVER Want Models in UK!

Cosmetics and Cosmetic Accessories Wholesale Market
Location(s): 3rd floor, district 3, Yiwu international trade city.
Opening hours: 09:00-17:00, 7x365, except a 15-day-close down during Spring Festival.
Y
iwu is one of China's national cosmetics manufacturing bases, has around 300 factories producing cosmetics and cosmetic accessories for over 500 big and small brands. Perfumes produced in these factories are being sold in shops in Paris with various brands.
Buyers can also meet some of these suppliers in trade shows like Cosmoprof and BEAUTYWORLD.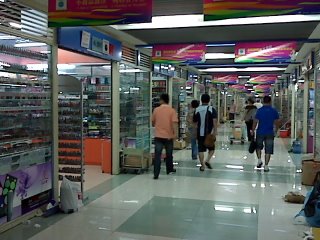 Cosmetics and cosmetic accessories wholesale market is located on the third floor in district 3, international trade city. Over 1,000 wholesale shops make this market the biggest distribution hub for cosmetics and cosmetic accessories in China.
Over 80% of China cosmetics and cosmetics accessories manufacturers(4,000+ estimated) have their agents or distributors in this market, including global brands like CD and SKII.
Yiwu Cosmetics Shop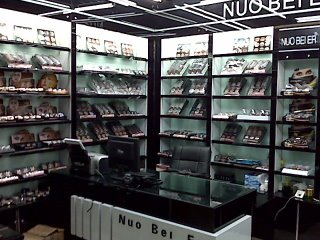 Over 60% of shops here are selling perfumes and cosmetics, around 20% are selling skin care and hair care products, the rest of them are for cosmetics package and cosmetic accessories.
The fourth floor is the showroom of some big and medium sized manufacturers. For most of time, this floor is pretty empty, as most of them already have their products selling downstairs (because there are more people). Many showrooms here are actually used as warehouses.
If you're looking for perfumes, lipsticks, nail oils, body lotions, this market would be of your best destinations in China; if you're looking for facial brushes, powder puffs, and eyelash curlers from china, you will definitely have to come to this market.
Here are some pictures giving you an idea of what this market is selling:


cheap scissors and tweezers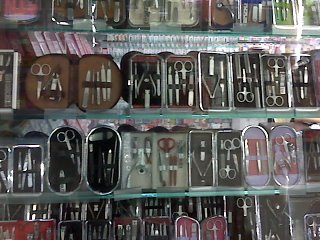 cheap nail stickers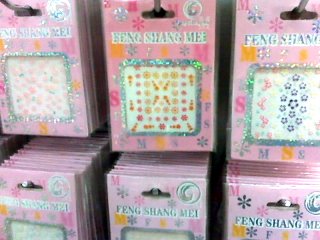 cheap cosmetic bottles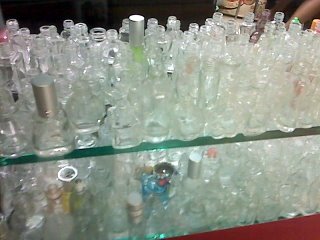 >> Return to Yiwu Market from Cosmetics and Cosmetic Accessories Wholesale Market

>> Back to Yiwu Market Guide Home