Yiwu Zhaozhai Paintings & Picture Frames Market
NOTE: part of this market has moved to 5F of District 3 in Yiwu International Trade City.
Eventually, this whole market will be moved into above addr. by October 2012.


Products: oil paintings, picture frames, Pu pictures, resin pictures, photo frames and photo frames machinery.
Scale: 150+ suppliers.
Location: Zhaozhai, Yiwu. 10 minutes from Yiwu international trade city.
Opening hrs: 09:00 – 17:00(some shops open till 21:00), all year round except a close down during The Spring Festival.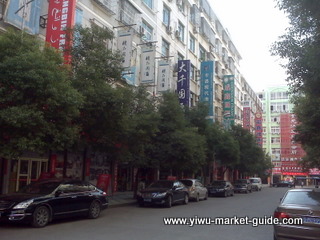 Yiwu is one of the biggest manufacturing bases in China for oil paintings and picture frames. Currently, there are about 400 manufacturers in Yiwu, producing more than 1 billion USD revenue a year. There are still a dozen sizable factories that can produce 10,000,000 USD each year.
So in Yiwu now, oil painting and picture frames are already a big industry.




Products & Price?
---
Oil paintings–handmade or half-printed and half-handmade, including:
Abstract,Animals,Floral Paintings,French Nouveau,Horses,Landscape Paintings,Lighthouse,Men and Women,Music,Religious,Ships,Still Life Paintings,Street Scenes,Waterside Scenes,Women... with or without frames.
Other wall decorations like PU pictures, carved pictures on wooden panels, straw skin pictures, wall clocks and many types of photo frames.
Here are some photos:
oil painting-house and scenery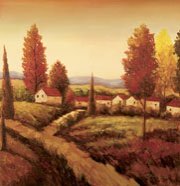 Size: 60*60cm, Price: 32.00CNY/pc.
oil painting - still life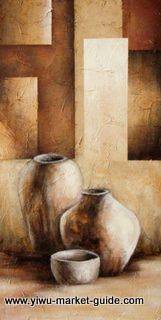 Size: 60*90cm, Price: 48.00CNY/pc.
oil painting - women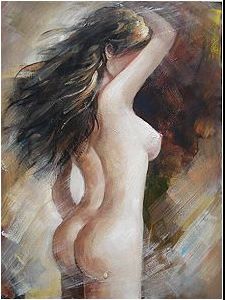 Size: 60*80cm, Price: 45.00CNY/pc.
cheap hand made oil painting
Size: 60*60cm, Price: 36.00 CNY/pc.
crystal paint wall picture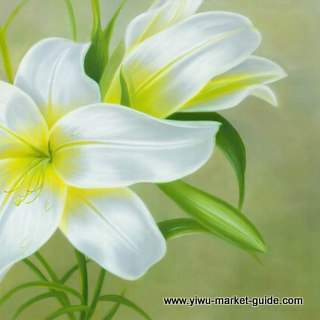 Size: 60*60cm, Price: 36.00 CNY/pc.
panel wall picture-hand carved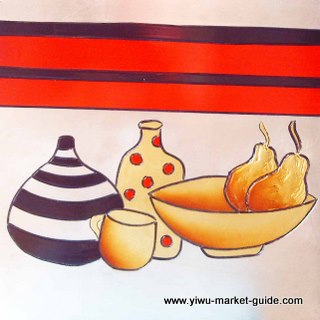 Size: 60*60cm, Price: 36.00CNY/pc.
half handmade oil painting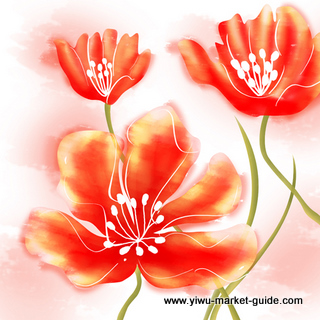 Size: 60*60cm, Price: 28.00CNY/pc.
wooden wall picture-hand carved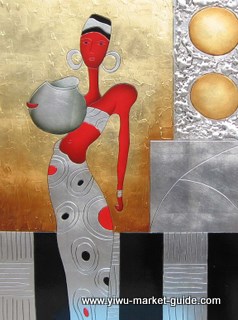 Size: 60*80cm, Price: 46.00CNY/pc.
big wall picture-PU
Size: 80*180cm, Price: 240.00CNY/pc.
PU wall picture-tree
Size: 60*60cm, Price: 70.00CNY/pc.
* Disclaimer: we try all what we can to provide objective and actual information, but we can't GARANTEE the info posted here are 100% right, for all the time. And we are not responsible for any loss caused by the information here.
What about MOQ?
---
MOQ varies from case to case. Basically it's from 12 – 48 pcs per picture per size. For large size pictures, the MOQ can be 2 – 8 pcs. MOQ is not a big thing in this market as long as you're not buying "one piece only for me"




What about quality?
---
Most of the items here is mid-end or low-end. But because the big companies like Wangbin and Huahong – they're both one of the biggest pictures and pictures frames suppliers in China, all located inside this market. So you can also find some good quality items here.




Tips for visiting Yiwu Zhaozhai Paintings and Picture Frames Market:
---
#1 Some suppliers are protecting their new products. So you will need to ask for permission before taking photos.
#2 Many these products are wooden, or have wooden parts. For many countries, fumigation is needed before shipment for pest control. So you will also need to discuss about fumigation when you're placing orders.Some showrooms in Yiwu Zhaozhai oil paintings and picture frames market.




Related Links:
---
buy photo frames from Yiwu, China.
buy home decorations from yiwu market
buy wicker laundry baskets and storage baskets from yiwu china
buy crystal items from yiwu china
Yiwu watches and clocks market




>> Return to Yiwu Market from yiwu zhaozhai paintings and picture frames market