Buy Crystal Items from Yiwu China
-variety, price level, quality and MOQ
Read In Advance:
---
If you're looking to buy cheap crystal items from China, but don't from where to start, this article would help you with some solid information.
Of course, as there are thousands of crystal items from about 100 suppliers, I can't list all of them here. Instead, I would just go for the main types of crystal items so you can evaluate the potential using your own expertise.
And, because the prices are fluctuating from time to time because of material price, labor cost, currency exchange, and market demands etc. The prices here can only serve as reference, NOT actual prices.
* Disclaimer: we try all what we can to provide objective and actual information, but we can't GARANTEE the info posted here are 100% right, for all the time. And we are not responsible for any loss caused by the information here.




Buy Crystal Items from Yiwu China – Variety and Price Level:
---
Yiwu does not produce any crystal, but it's pretty strong for crystals. This is because Pujiang, a city 30 minutes away from Yiwu, is well known in China for making crystal items. A lot of Pujiang crystal producers set up their selling offices in Yiwu market.
There is an exclusive section called "crystal and ceramics" on Floor 3, District one of the main market. Most of crystal suppliers are in this section. You can also find a dozen crystal shops on the same floor. A few more shops in district 4 are also selling crystals.
These shops are wholesaling either on behalf of their own factory, or on behalf of other factories they represent. Variety is very good.


A big crystal clock in Yiwu market
This 16cm high crystal clock is about 12.50 USD/per.


A small crystal clock for wholesale in Yiwu market,China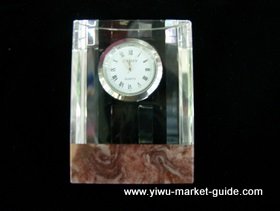 This 10cm high small clock is about 5.15USD/per.
A clear crystal ashtray in Yiwu market, China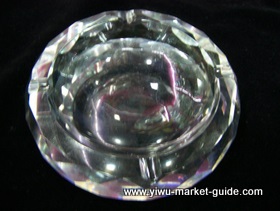 This clear crystal clock is about 12cm in diameter. Price is about 1.75 USD/per.
A color crystal ashtray.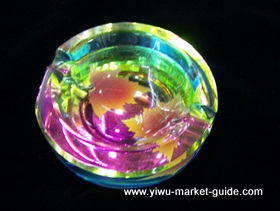 This is a color crystal ashtray. 8.0 cm diameter. Price is about 1.30 USD/per.
A small clear crystal cone.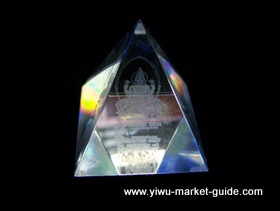 This clear crystal cone is about 40mm base, w/ a Buddha carved inside, about 0.73 USD/pc.
A colored one.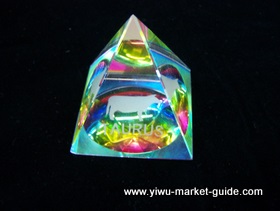 This is multi-colored small crystal cone. About 40mm base. K5 crystal. W/ some letters and an animal figure carved inside, about 0.41USD/per.
A crystal angel with led.
This 7.5 cm high crystal angel, with a led bulb at the bottom , can display in 4 colors. Price is about 0.88USD/per
A crystal owl in Yiwu market.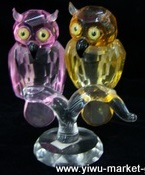 11.0cm high. K5 crystal. About 2.20 USD.
A crystal horse wholesale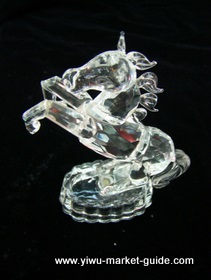 Small crystal horse. About 13.0cm high, 2.50 USD/pk.
Small crystal acrylic flowers.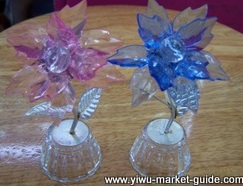 This is not crystal. It's acrylics! 10.0cm high. 6 colors assorted in a case. Only about 0.21 USD / per.
a crystal rose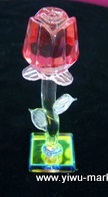 A small crystal rose. 9.0cm tall. W/ cell battery and led bulb at the bottom to display 2 colors. About 0.22 USD/pc.
A crystal wedding favors
Gift packing. Can be used as wedding favors. 11cm tall. W/ cell battery and led bulb at the bottom to display 2 colors. About 0.35 USD/pc.
crystal fruits in Yiwu market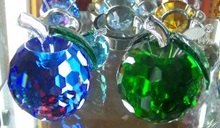 Many types of crystal fruits are also available in Yiwu market.
a small crystal globe
This crystal globe is about 5.0cm in diameter. 0.34 USD/pc.
A clear crystal medal.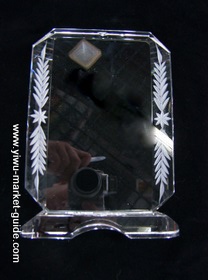 K9 A grade crystal medal, 20.0cm tall, about 5.90 USD/per.
a crystal candle holder
Small crystal candle holders, 16.0cm tall, K9 crystal, about 3.95 USD/per.
a small crystal bottle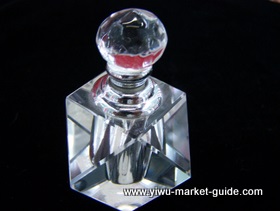 small crystal bottle, about 6.0cm tall, 0.40 USD/per.
a big crystal bottle w/ gift packing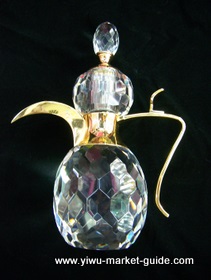 big crystal bottle, about 26.0cm tall, w/ gift packing, about 33.00USD/per.
Buy Crystal Items from Yiwu China – Quality and MOQ:
---
Crystal items here are from low end to high end. They supplying different markets from mid-east to Africa. MOQ, in most cases, is 2 or 3 ctns. Total purchase value about 300 USD.




Some Important Tips:
---
As most of the crystal items are heavy and fragile, they need VERY GOOD packing. If the packing is poor, you will find them arrive in pieces.




Related Links:
buy photo frames from Yiwu, China.
buy wicker laundry baskets and storage baskets from yiwu china
buy home decorations from yiwu market
>> Return to buy from Yiwu from buy crystal items from yiwu china.