Yiwu Market Opens Up After CNY Holiday!
4 Advantages Of Yiwu Artificial Flowers Market
According to Alibaba(China), Yiwu has the most suppliers for artificial flowers  in China. Below are 4 Advantages of Yiwu artificial flowers market.
#1: Plenty Choices
---
As per above floor plan for artificial flowers market (floor 1) in Yiwu China, from shop #007 to shop #0600 are all for artificial flowers and products related to artificial flowers business.
Because over 20% shops are shared by 2 suppliers, a good estimated total number is: 600 + 600*0.2=720 suppliers on this floor for artificial flower business.
2 suppliers share 1 shop in Yiwu artificial flowers market
Plus, about 40 factory big wholesale showrooms on the 4th floor of the same building, so the total number of artificial suppliers in Yiwu artifical flowers market comes to:
720 + 40  = 760 suppliers. This already makes this market the biggest in its kind in China.
Featured showrooms on floor 4 of the same building:
Suppliers in this market are from all over China, esp. Tian Jing city, Hebei province, Guangdong province, and Shandong province. 
A4-9107 Shun Chang Flowers from Tianjing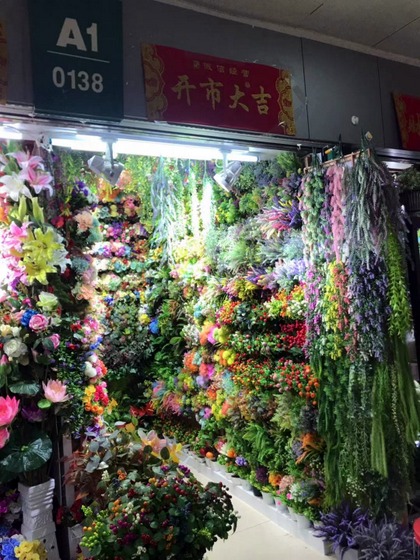 A1-0138 Jasmine Flowers from Guangzhou
Beside general artificial plants like flowers, trees, grass, fruits, turf, balls, walls, bonsai, preserved natural flowers... you also get flower parts, flower components, flower making tools(even machines), and flower package supplies ALL in the same building, which offers convenience for all buyers.
A supplier for flower package material & supplies inside Yiwu artificial flowers market
Beside flowers, there are lots of decorations and crafts for home and events right in the same building, which offers more choices for buyers.
#2: Low MOQ
---
Most of the products in this market can be ordered by 1 carton with mixed colors. But please be aware that many cartons are very big, can put  hundreds even thousands of units inside.
Over 50% of suppliers have stock, ready to ship(not on the same day though).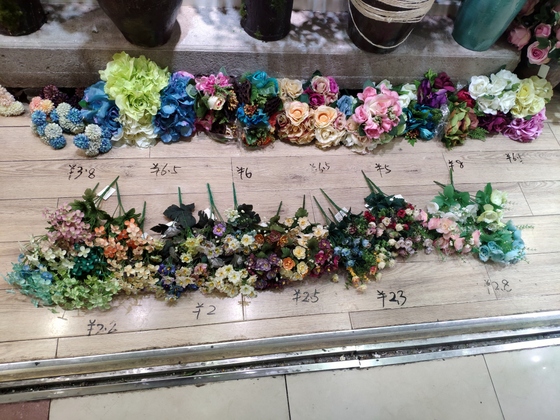 1 supplier inside Yiwu artificial flowers market has some stock, ready to be shipped. MOQ is only 1 carton
#3 Low price
---
Big volume + market competition = low price.
After 20 years growth, the scale effect enables this market to offer very competitive prices. Buyers can be surprised to see some prices here are even lower than the prices given by factory.
Below is an example:
Single real touch tulips on Amazon for 1.10USD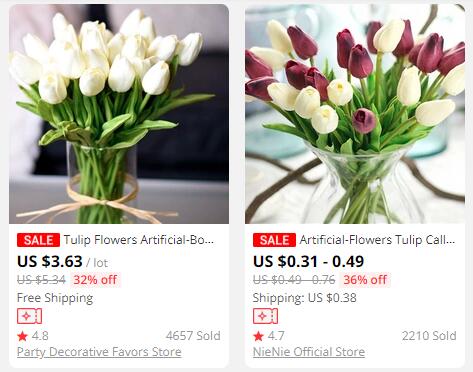 Aliexpress pricing
Alibaba(China) pricing
Same tulips in Yiwu artificial market priced for 1.10RMB
From this product pricing  research, we can see that Yiwu artificial flowers market still offers the best prices, even better than online platforms like Alibaba(China). 
#4: Easy to Buy
---
Nowhere else in China offers such a place for buyers to compare quality and prices efficiently. A few days in this market can be more productive than a few moth spending online with chats, calls, emails and samples back and forth.
Face to face communication is also very important to establish relationship which can benefits long-term business.
Of course, if you are not able to come, with modern communication tools, we can also help pretty fast. We are very close to this market.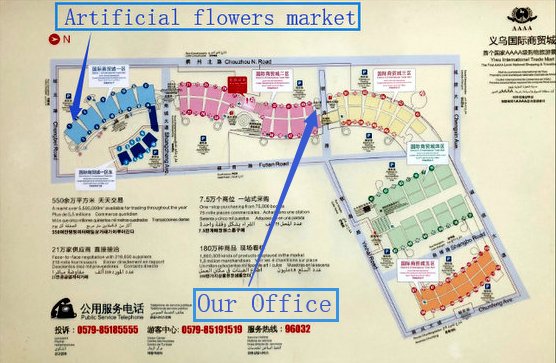 Artificial flowers market location and our office location
Below are some visiting tips:
This place is located in district 1 of Yiwu Futian market, or we say Yiwu Intl Trade Mart, at the very beginning point of this snake-shape-market. See the picture above. You need to reach South gate of district 1(一区南大门,城北路) , or Gate 7 of district 1(一区7号们,稠州路).
The best visiting time can be March or April, to have enough time for end of year selling season. You can come visit this market and other trade shows, like Canton Fair, together. If you miss this time, no problem. You can come at whenever available for you because this market opens all year round except some public holidays. For details, you can see when Yiwu market open? And when Yiwu market close?

The market itself is not big, you can finish browsing it in one day, then spend a few more days to get more product information or finalist some orders. 2 - 5 days can be good, depending on how much your purchase budget is.
You may need a proper visa, for details of visa, you need to consult China embassy in your country or your travel agent. You can fly to Yiwu, Hangzhou or Shanghai airport, we can offer pick up from airport upon your arrival. More travel details please see this page: https://www.yiwu-market-guide.com/go-to-yiwu.html
There are many hotels within walking distance to this market:
5-4 star: SHANGRI-LA Yiwu hotel, Marriott Yiwu hote, Best Western Premier Ocean hotel, Sanding New Century Plaza hotel.
3 star: Kaison  International hotel, Byland World hotel, Kaison Pury hotel, Byland world hotel.
Chain hotels & small hotels: Ejon Impression hotel, Guomao hotel, Jinda hotel, Baide hotel...
Hire an experienced GOOD guide can improve your productivity, but not a must. I highly recommend explore the market by yourself first, work with a guide (or agent) only after you see good potential and you verified prices. You can use our free Yiwu Market Guide APP (YMG)for direction, translation, price recording, and get online help: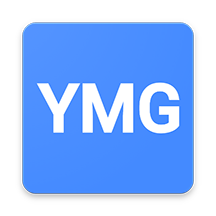 *Click to see how YMG App can help when visit Yiwu market
What to know more?
Leave your email address with comments/questions. We will reply you soon!
What Other Visitors Have Said
Click below to see contributions from other visitors to this page...

Do you have wisteria?

hi my name is Sadaqat from Pakistan, do you have this item? wisteria vine, 1200 pcs for shop and married lawn, same quality as picture.
hydrangea artificial flowers grad A .. how much ?

hi i'm kobin, i need hydrangea artificial flowers grad A .. how much ? i need a lot ..but i need price for 1000, in myr
Can you provide wedding flowers as per pictures?

Hi Jack, i have an event planning and decorating company. I need flowers. Is it possible for you to buy flowers according to my pictures and themes from …
Related Links:
---
Contact Us:

---
>> Back to homepage.