---
NEW: 4 Advantages of Yiwu Artificial Flowers Market (2020)
---
Buy Artificial Flowers from Yiwu China
-tips, variety, price level, quality and MOQ.
Artificial flowers is an old-line business scoop in Yiwu commodity trade city. From A1 area to B1 section in building one, there are around 800 booths specializing in artificial flower and flower parts. Most of them are real factories/on behalf of factories.
Most of the good quality artificial flowers are produced by Shantou and Dongguan in Guangdong province. You can find many factories from Shantou here. Their price is slightly higher than the artificial flowers produced from other places.
Many small factories in Yiwu are assembling factories, they buy parts like flowers, branches, leaves and accessories, then assemble them.




Tips for Buying Artificial Flower from Yiwu China:
---
For products like artificial flowers, when you're ready to buy them you must write down details.
For example, how many flowers, how many layers of one flower, how many leaves and accessories. For leaves, it's print leaves, or no print leaves.
As artificial flower is light bulky goods, and they can easily get damaged. So in order to maintain the best quality, the most important thing is to pack them well. So, it's better to use inner box.
For example, for 9 flowers rose bunch, the best packing way is packing 12pcs per inner box, 6 inner boxes in 1 carton. In this way, the flower won't be damaged during transportation. For single flower, it's better for each one to be packed in an OPP bag.




Buy Artificial Flowers from Yiwu China – Variety and Price Idea:
---
There are thousands of different types of flowers and plants, so many shops sell different kinds of artificial flower, but, you can find that most of the shops display the most conventional and best seller flowers, such as rose, chrysanthemum, orchid, tulip… and so on.
There are single flowers, bunch flowers, basket flowers, and trees.


Single roses wholesale in Yiwu market, China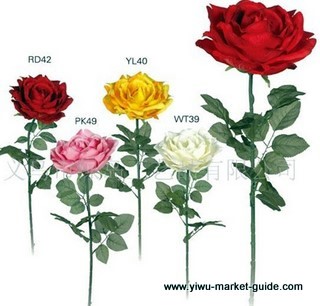 bunch flowers wholesale in Yiwu market, China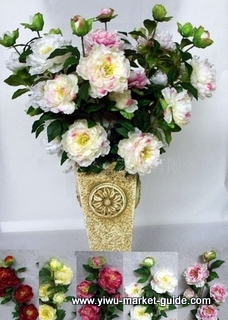 trees wholesale in Yiwu market, China

Even almost all the shops sell the common flower like rose, but different fabrics, different accessories, different arrangements of the flower and leaves all make the product unique.
So no one shop sells the same products. Also, any changes will lead price difference.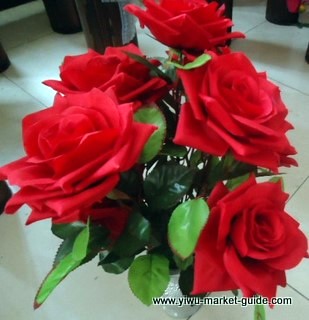 Bunch roses wholesale - 9 flowers rose, the price is around $1.45usd.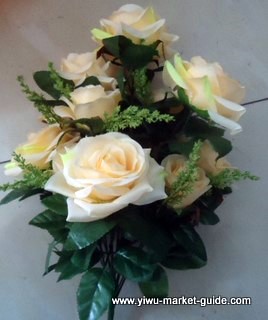 bunch roses wholesale, also 9 roses, the price is $1.5usd, as there are more accessories inside, also this bunch use more material for leaves.
Buy Artificial Flower from Yiwu China – Quality and MOQ:
---
Most good quality artificial flowers in Yiwu market are produced by Shantou and Dongguan of Guangzhou province.
However, the factories here also can offer some good quality items with competitive price. Esp. if you want cheap prices and OK quality, then come to Yiwu.
And the most outstanding advantage of the artificial flower here is MOQ. Different from the factory in other places - 1 container for 1 or 2 items.
Here, the MOQ is usually 500-700pcs, which is about 10 ctns.



Related Links:
---
Yiwu artificial flowers market




>> Return to buy from Yiwu from buy artificial flowers from yiwu china.