Yiwu Sightseeing
Xiuhu Lake Park
---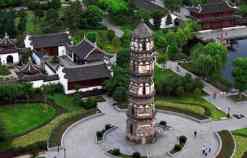 Xiuhu Lake Park, with a 300+ year old Da'an temple tower inside, is the landmark of Yiwu. Da'an temple tower was originally built in Song Dynasty (960 AD-1279 AD). This is the oldest park, and the only major park located in city center of Yiwu.
The new Xiuhu park was actually built in 2003, has a total area of 71,643 m2 (17.7 acres). A few Ming (1368 AD - 1644 AD) and Qing dynasty (1644 AD - 1911AD) buildings there are worthy for a look, if you're interested in architecture.
Do not have high expectations. After all, it's just a small park. The main reason for recommending is the tower - the only thing is Yiwu can make you think of its long history. Others historical relics were all badly damaged. The restoration of these "old crappies" is certainly not a top priority now.
Another reason for recommending is its good location: close to many major hotels, shopping malls, supermarkets, tea houses, cafe and other leisure venues. So it's a nice place for relaxing.
There are always many people in the park, so you may lucky enough to see someone practicing Kungfu or singing opera.


Yiwu Riverside Park
---
Yiwu Riverside Park is a good place to have some fresh air after a tiring day. Two walk ways along the riverside are ideal for a long walk/run. The walk ways are the longest of its kind in whole Zhejiang Province.
Yiwu government has installed neon light tubes along both banks. It's quite a scene in the evening. But to save electricity, they're not on every evening. Unfortunately I still didn't figure out on what date they're on. So it's depending on your luck. ;-)
There is one theme park/ocean Park for kids in this park. Roller coasters, ferris wheels... all the things make you scream. Ah, this is just recommended to your lovely kids, or in case you want some extra fun and a bit unforgettable memories.


Yiwu Wetland Park
---
Finally it's time for my favorite place - Yiwu Wetland Park, also known as Futian Wetland Park, still half-finished.
Yiwu Wetland Park is beside International Trade City. I usually enter the giant complex of international trade city from District one, after finish sourcing in District 4; I'll take a return walk through the park back to my office. I don't want to return on the same route inside the "commodities sea", it's just too much sometimes.
The main reason I recommend this park is it replies much on nature.



You can watch the long neck white big bird, sorry I don't know its name, flying over ponds hunting for fish, small fish jumping in the lake showing their silvery bellies. You can hear wild duck mothers warning her kids while someone is close to their "territory", and monks chanting in a nearby temple. (It's weird I heard someone performing opera inside the temple today)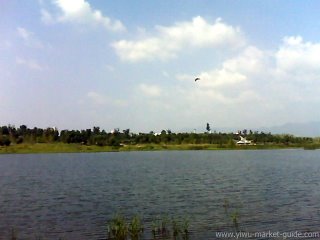 Another reason I like this park is it's a best place for biking in Yiwu.
Did I tell you I'm a biking fun? Probably not! I can arrange a ride for you inside the park if you like. Totally FREE!
The park itself is quite big. Few people go there. So it's also an ideal place for other sports like running and fishing. This park has a potential to become a must-see Yiwu sightseeing location in the near future.



These three are my recommendations for Yiwu sightseeing. Hope it helps. Happy Yiwu Sightseeing!



>> Return to Yiwu China from Yiwu sightseeing