Where is Yiwu?
Yiwu locates in the central eastern coast of China. 300km to south west of Shanghai, 150km west to Ningbo port(one of the largest ports in China), 100 km south to Hangzhou(the capital city of Zhejiang province).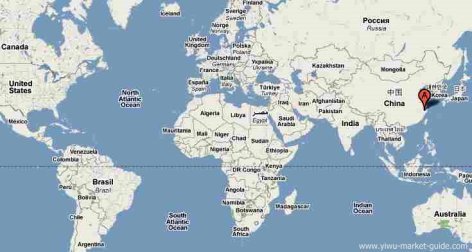 Nowadays it's very easy to
travel to Yiwu from Shanghai, Beijing, Hangzhou, and HK
.
>> Return to
Yiwu China
from
where is Yiwu
SeeAlso:
Yiwu Hotels Near Futian Market (International Trade City)
NEWS:
12 Oct., 2011:
Having A Company In Yiwu Is Becoming Easier.
22 Sep., 2011:
Yiwu Is Protecting Intellectual Property.
13 Sep., 2011:
Air China Flies from Beijing to Yiwu Directly.
19 Jul., 2011:
Fiji Minister Visited Yiwu.
16 Jul., 2011:
Yiwu Port is Taking Shape.
20 Jun., 2011:
Hong Kong to Yiwu flights 2011.
29 Mar., 2011:
Yiwu Becomes 10th Special Economic Zone in China.
11 Mar., 2011:
New Exhibitions Are on the Way in Yiwu.
20 Feb., 2011:
Labor Shortage after Chinese New Year Holiday in Yiwu China.
02 Feb., 2011:
Total Foreign Companies in Yiwu Reached 3,008 by 2010.
15 Jan., 2011:
Yiwu Manufactures Attended 63 World Top Exhibitions in 2010.
08 Jan., 2011:
Low temperature affects Yiwu electricity power supply.
24 December, 2010:
Yiwu Sells Over 17 Million USD Products Each Day.
23 September, 2010:
Yiwu GDP Reached 4 Billion USD after Q2, 2010.
16 September, 2010:
Brazil-China Commerce Association Visited Yiwu for Invest Opportunities.
11 September, 2010:
Mayor of Parramatta, Australia Visited Yiwu.
16 July, 2009:
Yiwu Customs Opened.