Yiwu Customs Opened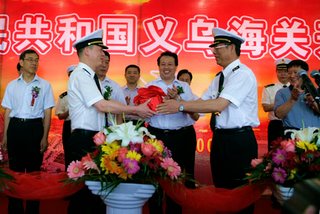 On July 15, Yiwu Customs, the first customs set in a county-level city in China history, officially opened to use.
Yiwu new Customs took many convenient measures for the export of small commodities. The new check and document transition platform for small commodities and queuing system for documents at the spot already put into use.
This new opening up can really boost the efficiency of small commodities clearance, such as taxation deduction and exemption, and the recordation of enterprises.
There will also be a special IPR section to provide overall IPR protection, which is the first time in Chinese Customs history.
"The new customs saved us 4-5 hours; we can just do all the things right here in Yiwu instead of going to Jinhua(an upper level city of Yiwu)", said Mr. Huang after finished customs clearance for 17 tons of motorcycle accessories exporting to Iran.
Background: As China's largest small commodities export base, Yiwu market exports to 215 countries and regions. Foreign trade accounts for over 65% of total market transactions.
In October 2002, Hangzhou Customs District stationed a Customs office in Yiwu, thus opening a "clearance express way" for the numerous small commodities. In the past six years, Yiwu Office of Jinhua Customs House (affiliated to Hangzhou Customs District) remained innovative and has adopted measures to optimize the clearance procedures. As a result, the declarations processed by Jinhua Customs House increased from 21,000 in 2003 to 277,000 in 2008, while the containers controlled increased from 51,000 TEU(Twenty inch Equivalent Unit)to 521,000 TEU.)
With the rapid growth in export volume, Hangzhou Customs District started the preparation work of building a bigger Customs administration in Yiwu after getting the approval of the State Council In January, 2009.
(Chinese available on www.customs.gov.cn)


>> Return to Yiwu China from Yiwu customs opened