Yiwu Martial Arts

Yiwu international trade city made Yiwu famous in the world in the last 8 years. Yiwu markets made Yiwu famous in China in the last 30 years. However, Yiwu martial arts made Yiwu famous in China for more than a thousand years.
Yiwu martial arts produced great figures among its long history. Back to Three Kingdoms Period (220AD-280AD), there was Luo Tong, a martial arts warrior from Yiwu, was conferred the Left General by Wu Kingdom Emperor after winning a battle against Wei Kingdom.
Left general is one of the top2 generals of a country in ancient China. He needs to protect a country like a left arm protecting the body. So it's a very important position.
In the Tang Dynasty, Luo Binwang, a great poet from Yiwu, was also known as a martial arts fun. One of Yiwu's biggest markets, BinWang market, was actually named after him. BinWang market is still an important market of Yiwu today. If you need to source textile or bedclothes, you need to go there have a look.
In the Song Dynasty, Zong Ze was a famous general (must be good at martial arts) against the Jin invaders. Now one main road in Yiwu city called Zongze Rd., is to remember him.
In the Ming Dynasty, famous Yiwu martial arts masters from Yiwu included the generals who get rid of Japanese pirates. They are Chen Dacheng, Wang Rulong and Zhu Wenda.
All together in history, there were 228 Yiwu people who had been conferred such military titles as general, commanders, vice commanders, and qianhu (officer commanding one thousand soldiers).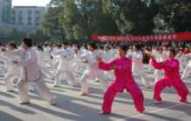 In modern times, Yiwu also given birth to lots of Kungfu stars or Kongfu masters, but they all didn't have a chance to show up on screens like Jackie Chen or Jet Lee.
Yiwu Government also encourages martial arts activities. Yiwu Sports Administrative Department has regarded martial arts as the representative project of the mass sports activity. Yiwu Martial Arts Association, established in November 1984, had the government high officials serving as honorary vice chairmen.
Core members of martial arts are selected into the Association from various departments and villages, making it one of the largest and the most developed organizations in Zhejiang province with frequent activities.
Yiwu has won champions for many times in regional or provincial martial arts contests. Yiwu Martial Arts (Boxing) Team, representing Zhejiang Province, has also achieved great results in the national competitions.
In January 2003, the Team joined in an international competition in Hong Kong, winning 4 gold medals and 2 bronze medals. Yiwu Martial Arts Association has been awarded titles as one of Best Martial Arts Associations by the China Sports Association and Zhejiang province Sports Association.
In 2002, Yiwu was awarded as one of the "Towns of Chinese Martial Arts" by China Martial Arts Association. You can see many senior citizens practicing martial art in parks in early morning. Kids in school all have Kungfu lessons by a dedicated Kungfu teacher.
Some villagers in Yiwu now days are still practicing martial arts. On holidays, martial arts teams go among different parts of the countryside to perform. They uphold and carry on Yiwu martial arts spirits: righteousness, braveness, loyalty, justice, and fairness.


>> Return to Yiwu China from Yiwu martial arts