A Peep at Yiwu's Christmas Decrations
---by ShenShan from CNNGO
*VERY important note by Jack Yang:
For those who plan to import Christmas decor from Yiwu, the best time to visit is before July. After July, you will find most factories can't deliver your orders on time because they're fully loaded.
Or they simply refuse the order because they already get enough for this year.



Yiwu Christmas Decor Market View:
---
"I sell Christmas trees from March to December," says Mrs. Ji, Yiwu market vendor.
---
Jump on the fast train heading south from Shanghai and two and a half hours later you will hit the market town of Yiwu. A holiday shopper's paradise, the Yiwu day market is an ocean of storefront vendors selling all manner of small commodities.
Almost as large as the city's downtown, the day market will take more than a day to cover in its entirety. And be prepared to buy lots of gifts this year; the traders in Yiwu sell in bulk. Trains to Yiwu leave from Shanghai South Railway Station.



---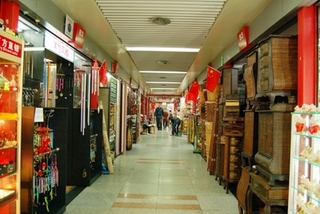 Yiwu day market interior hallway.
-the Yiwu day market is an endless maze of lanes and corridors, bathrooms and restaurants. Vendors line both sides of the halls, creating a melee of color and sound.



---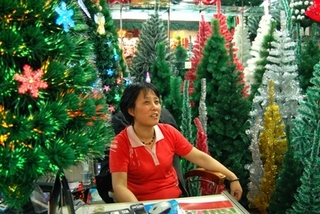 Mrs. Ji surrounded by her Christmas trees.
-"I sell Christmas trees from March to December," says Mrs. Ji. "I've been here for eight years. Most customers buy RMB 3,000-4,000 trees."



---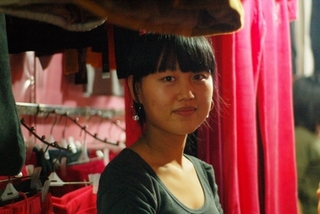 Night market vendor Sophia (Wang Fei).
-"Chinese people don't always bargain these days," says Wang Fei. "Sometimes they want to know the price for quality. It was not always like this and we had to bargain a lot."



---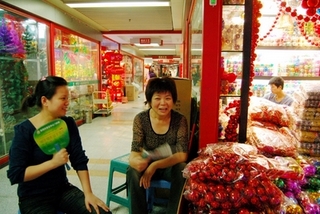 Mrs. He next to her Christmas goods shop.
-"The market is the town," says Mrs. He. "Other towns are far away. It takes time for products to get there. Here, it's always Christmas."



---
Zhou Aihua by the masses of paper lanterns she sells.
-"We've been here for 10 years," says Zhou Aihua. "Lanterns sell well. Chinese don't buy white lanterns. Foreigners buy white. Chinese mostly buy red lanterns."



---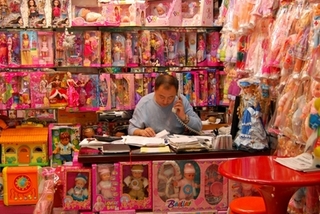 Mr. Fu on the phone surrounded by the Barbie dolls that he and his wife sell.
-"Mrs. Fu smiles at her husband. "It's fun for both of us to sell toys. That's why we got into the market -- 16 years ago."



---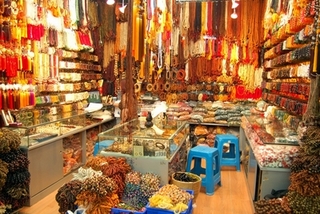 A shop full of Buddhist bracelets.
-"The Yiwu market is old California," says Zhou Zheng, a local merchant. "There are prospectors everywhere. They're all panning for gold. Some of them find it."



---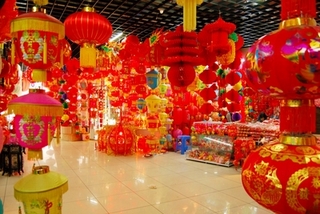 Red lanterns are favoured by the Chinese over white ones.
-"People in Yiwu have a saying," Zhou Zheng continues, "'Mei you zui pianyi, zhi you geng pianyi.' This means: there is no cheapest [price]; only cheaper."



---
Mr. Yin by his red lanterns.
-"These lanterns represent happiness. I enjoy selling them," says Mr. Yin. "The heaven lanterns sell well. Only RMB 1.2 each for a box of 200."



---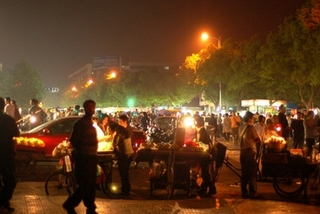 The sun goes down and the Yiwu night market comes out.
-A parking lot by day, at five every evening, the night market begins with a caravan of vendors setting up their stalls in under twenty minutes.



Yiwu Christmas Market Video:
---
(* Several attempts to contact this author resulted in no responses, so if anything wrong with sharing this article here, kindly contact web master. Thanks.)
>> Return to Yiwu China from Yiwu Christmas Decorations