Wu Opera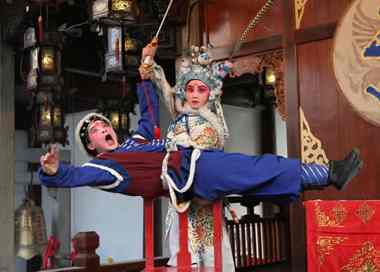 Wu Opera, also known as Jinhua Opera, is one of the oldest operas (has a 400-year history) in China. The earliest days of Wu opera can be traced back to Ming Dynasty(AD1386-AD1683). The name originated from Wuzhou, the former name of Jinhua.
It's characterized with loud and sonorous singing, ardent and bold manners, and surprisingly special martial arts.
This Opera is popular in Jinhua and its nearby cities. It has six operatic tunes: high-pitched melody, Kunqu Opera melody, Luantan, Anhui Opera melody, Tanhuang (storytelling in rhymes) melody and Shidiao (popular songs) melody.



Yiwu Wu Opera Troupe was founded in 1955, and is the only professional non-governmental troupe in Yiwu, with about 55 actors and actresses, including several real professionals. They show up about 200 performances each year both on national TV and in local theatres, and already won many awards from local and abroad.
You can find its funs and enthusiasts performing occasionally in parks, or in some community entertainment centers.
More and more parents are showing interests on this old art and sending their children to have opera training in schools.
Some famous plays are "On the broken bridge", "Di long an". Here is a clip of "Di long an".

You can also try a flash clip if above video doesn't work:
http://player.youku.com/player.php/sid/XMzY2ODI5MjA=/v.swf


>> Return to Yiwu China from Wu opera