Handbags Market Yiwu China
- By Joy from Yiwu-Market-Guide.com


Do you have several handbags shops? Or a bags chain store? Are you planning to import from China?
If yes, come to Yi Wu International Trade City, there are all kinds of bags: ladies bag, children bag and men's bags. Because of different designs, good quality in cheap price, these bags are welcomed by so many people in domestic and abroad.
The International Trade city is divided into five districts, they are connected with corridors or footbridges, from the main gate of District 1, you can go through them from A to I, and the number increases as you walk.
Handbag stalls are displayed at district 2 .From F to G, may be you will say it is not detailed, how to find a certain shop? Do not worry, in each area, for example F, it is divided into 12 streets and every shop has a number in order.
Now, let me guide you to those bags!




LADIES BAG
---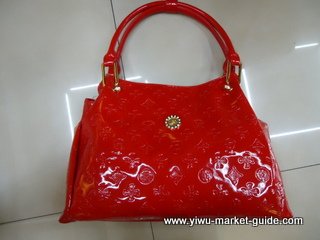 (ladies handbags wholesale in Yiwu China)
There are many kinds of ladies bags, different colors, different styles (handbags, backpacks, dinner bags, wallet and so on), and different sizes.
The popular materials are leather, PU, PVC, cloth. If you go through luggage and bag district, you will find ladies bags are of most styles, beautiful and fashionable.
The price varies from tens to more than one hundred RMB for different materials. Most of these bags(samples) are of fine workmanship. I think they can satisfy all walks of life in your market.




MEN'S WALLETS
---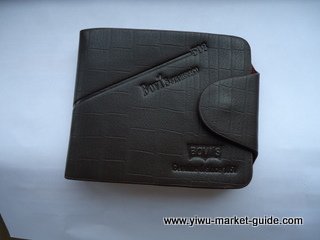 (wallets wholesale in Yiwu China)
Compared with ladies bag ,the style of men's bags are not as many. The most popular colors are brawn and black .It emphasizes on functions .You know ,men are always seen as representation of mature and steady ,so black and brown are much suitable.
One thing is pretty sure that the style here can satisfy many needs! Most importantly, they have an OK good quality and low price.




CHILDREN'S BAG
---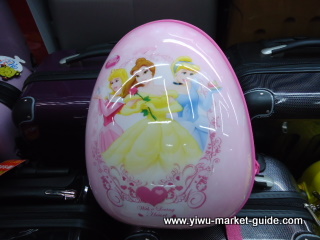 (cartoon school bags wholesale in Yiwu China)
There are many shops are selling children's bags. Children's bags are always printed with cartoons pictures, looks cute .You can select as you like.
Sometimes you can have your own logo and your own design. Look at the picture above, is it beautiful?
This kind of bag always has two styles, back bag and luggage. This picture is only one kind of them, for more styles? You need to come and look!There are more than 1,000 stalls, most of them are only wholesale shops, they usually do not sell one or two because they are samples and samples are only for customers to check color, style, material and price when placing orders.



Most of these shops are only interested in scalable orders. But some shops have stock and can sell by retail so small quantity is also accepted.
Welcome to YiWu International Trade City, an open place for businessmen from all over the world, it is a lively and beautiful city, and you can come here for business, while sightseeing…I'm not sure.




>> Return to yiwu market from handbags market Yiwu China