Yiwu Pen Market
Location: 1st Floor, District 3, International Trade City.
Opening hours: 09:00-17:00, 7x365, except a 15-day-close down during Spring Festival.
Hello friend. Today I'd like to share with you my knowledge about Yiwu pens market. Here we go:
Yiwu has been strong in pen manufacturing for more than 20 years. Its pen parts and pen accessories also take up over 70% of China market market share.
That's to say, over 70% of China pen accessories and parts like pen refills, pen points are sourced from Yiwu.
The strong manufacturing ability makes Yiwu pen market one of the largest markets in Yiwu, and the biggest pen wholesale market in China.
Around 2,000 shops are cubed inside Yiwu International Trade City. Other shops scattered out in the streets. But International Trade City is the place where overseas buyers go most.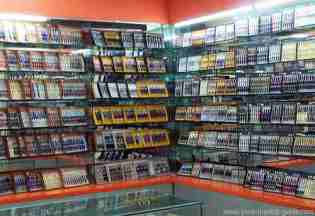 Fountain pens, ballpoint pens, ink pens, calligraphy pens, pencils, promotional pens… pens within your imagination or beyond your imagination, are all displayed here.
Over 70% of them are for exporting. If you're looking for cheap price, OK quality, different models, come to Yiwu pens market. You will not be disappointed.
Besides variety, the creativity of China pen producers also attracts buyers' eyeballs. You can see a few really creative stuff in the What's New and What's Hot section at the bottom of this page.
Suppliers in Yiwu market are from all over China, including many strong pen producing areas like Wenzhou, Ningbo, Tonglu in Zhejiang province, Fengxian in Shanghai, and Shixing in Guangdong province.
Nearly 90% of big Wenzhou pen producers (yearly turnover exceeds 10 billion USD) set their direct sales offices in Yiwu market. Yiwu market helps them with over half of their yearly exportation.
You can find almost all top China pen brands inside Yiwu pen market. And you can also find, as much as you wish, non-barnds and small brands.
Around 70% of suppliers inside Yiwu market are factory direct sale. Agents take a 28% percent, including an 8% percent of general agents and exclusive distributors.
As Yiwu is a good big market to compete and show strength. Most suppliers choose Yiwu market as the first place to put their new models or offer competitive prices, to gain a bigger market share.
This made Yiwu market a paradise for buyers. Buyers just simply come to one place and have an extensive look of all China pens, then decide when and where to place orders.
But the rat race also makes Yiwu market a hell for suppliers sometimes.



Featured Products: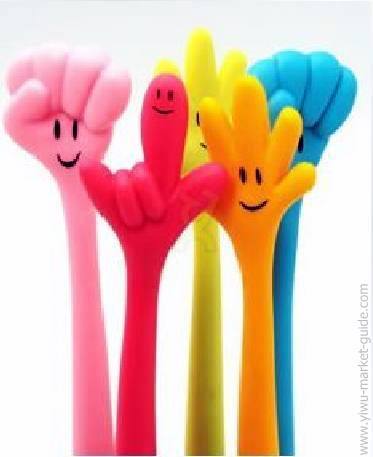 These pens are new products.
The five emotional fingers can be twisted into any gestures as you wish. The pen body can also be easily bended into any shapes. You can twist it around your fingers, or bend it and hang it somewhere beside your desk.The cutie emotions make this pen so cool.
Let's have more pictures of these buddies.
A happy family!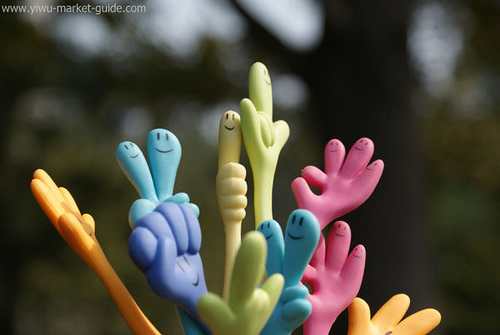 let's have a sun bath.
ballpoint pens
cheap flowery pens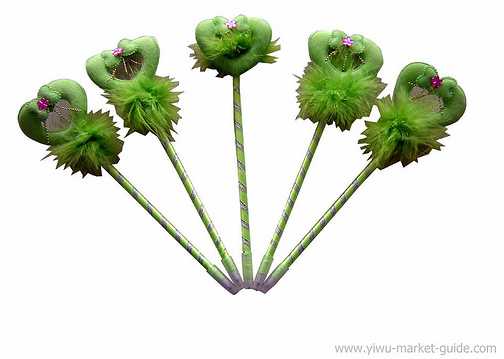 flowery pencil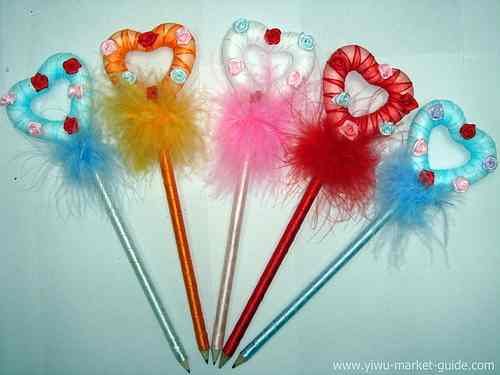 gift pens
mini pens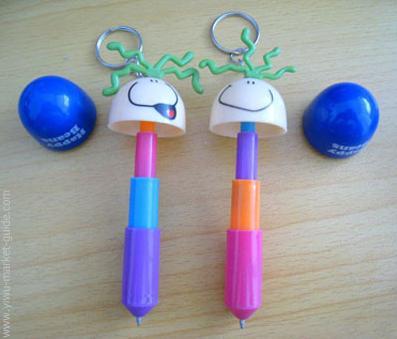 Pens with some creative designs, cool ideas are always welcomed by customers worldwide.
Flowery pens, cartoon pens, foldable pens, mini pens are all hot selling stuff now. Especially the flowery pens, they are warmly welcomed by buyers from the Americas.
I'm sure you will find more interesting stuff if you come to this market by yourself.



Dos and Don'ts When Visiting Yiwu Pen Market
Wear light, comfortable shoes. Trainers would be perfect.
Put yourself inside comfortable clothes. Business-leisure would be perfect. Formal, elegant suit is rare here.
Bring a pulling luggage for samples and a backpack if necessary.
Browse according to the booth numbers, block by block, so you can cover the most.
Put some food, at least a bottle of water, in your backpack, if you want to stay for several hours.
Smoke only in the smoking room.
Ask for permission before taking photos.
Ask for new models if you think they may have.
Hire a translator if you want to know more details and place orders. But if you just want look around, it's not necessary.
>> Return to Yiwu Market from Yiwu Pen Market

>> Back to Yiwu Market Guide Homepage