Shanghai to Yiwu by Car / Taxi, Bus, Train
From Shanghai Pudong(PVG) Airport:
For saving time, convenience, flexibility, and comfort , i recommend take a car/taxi from Pudong(PVG) airport to Yiwu. Get picked up from airport exit, dropped off at Yiwu hotel door. 
Bus is not pleasant, but still a good option for cheap and easy,  if you land at Pudong (PVG) airport  7:00 am - 3:00 pm,  you can take a bus from Pudong airport to Yiwu. 
Only if you have train tickets ready IN HAND, for puncture, safety, and comfort,  i can recommend take a fast train from Shanghai to Yiwu. The train itself only takes 1.5-2.0hrs, but plus transaction time, it can easily take 5+ hrs before reaching your Yiwu hotel. 
*If you're 3+ persons travelling together, taxi/car is best value for money. Travelogue:  Best Way for 3 Persons to Travel from Pudong Airport to Yiwu.
From Shanghai Hotel:
You can go by train or bus if transfers are not a problem(see next section on the page). For time, flexibility and comfort, you can have a taxi/car which can be booked via this link:
Shanghai to Yiwu by Train:
For latest timing, please go to: www.12306.cn You may have this page translated by Google.
Please understand that because of frequent changing schedule, we're not able to update timely here.
I highly suggest: take a Shanghai to Yiwu fast train come to Yiwu without stopping at Shanghai, IF you arrive time is right. Otherwise, you'll need to stay in Shanghai for one night before coming to Yiwu.
All Shanghai to Yiwu bullet trains start from Shanghai Hongqiao train station. 



#1 From Pudong airport to Yiwu: 



===Updated on Dec.01, 2014===
The VERY fast train, G Train, from Shanghai to Yiwu lunched. This new train(actually new railway) makes the whole journey even shorter, onlyone hour and a half. The old D train retired.
Here is latest timetable:
G7359 09:46 11:18
G1347 09:51 11:27
G1349 10:50 12:26
G1351 11:50 13:30
G1387 12:20 13:56
G1355 13:50 15:26
G1303 14:15 15:51
G1361 16:45 18:18
G1393 17:46 19:19
G7371 18:13 20:13
G1395 18:35 20:08
If you're arriving in in right time, going to Shanghai Hongqiao train station from Pudong airport is actually pretty easy. You just need to take metro line 2.
Line 2(Pudong International Airport to East Xujing),60km in length, including 31 stations, is a west-east directional metro line connecting two sides of HuangPu River, and crossing the downtown area.
The total journey lasts about 80 mins. 



See colour green in below map: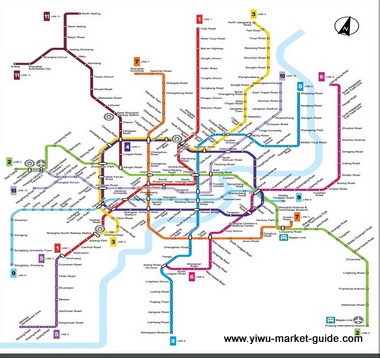 Metro Line 2 (green) from Pudong Airport to Hongqiao Train Station
If you don't like metro, or yo land at a time there is no metro,  you can take airport bus line 1/ airport night bus. This bus can also take you to Hongqiao train station from Pudong airport within 80 mins. 
#2 From Other Places of Shanghai to Yiwu:
If you're at other places in Shanghai, just manage to get to Shanghai Hongqiao Train Station, and then jump onto the train to Yiwu.
It's easy, your hotel front desk can help you with a taxi and buying train tickets for you in advance. 



P.S. Better get someone to buy train tickets  / book tickets online in advance, because some of the fast train tickets can be sold out by the time you get to train station. Esp. weekends and holiday time. 
Yiwu Taxi Tips:
* Share a taxi with others is usual in Yiwu, but ONLY under passengers' permission.  Passengers can refuse to pay if it's not under their permission.
* Always insist putting on meter and ask for receipt(发票, reads "Far, P-ee-or ") before paying fare. 
Related Links:

Have A Question / Story for Yiwu Market?
Do you have a question / story about Yiwu market? Ask / Share today!
>> Back to homepage.