Buy jewelry from Yiwu wholesale market without travelling
Shanghai to Yiwu Fast Trains
What Are Fast Trains?

The VERY fast train, G Train, from Shanghai to Yiwu lunched end of 2014. This new train(actually new railway) makes the whole journey even shorter, only one hour and a half. The old D train retired. Other trains are too slow, not recommended.
* Train is only recommended if you have tickets in hand, or at least got tickets booked and paid over internet, and you are familiar with train transport system, and you have at least 45mins in train station prior departure. During holiday time, train stations are usually packed with people, can easily lose time from line up to another line up.
Otherwise, i recommend you book a car:
Pick up at PVG(Pudong airport): private car / taxi between PVG airport and Yiwu.

Pick up from a Shanghai hotel / other address: car / taxi between Shanghai hotel and Yiwu hotel.  

FAST TRAIN Schedule/Time:
There are over 30 trains go to Yiwu from Shanghai. From 6:30am to 8:30pm, each 10-30 mins, there is train. 
Below is a timetable only for reference:
TRAIN    DEP.     ARR.     DUR.
G7331    06:20    07:48    1hr 28mins
G7333    06:30    08:05    1hr 35mins    
G1383    06:45    08:27    1hr 42mins    
G1651    06:56    08:42    1hr 46mins    
G2365    07:12    08:52    1hr 40mins    
G1371    07:22    08:57    1hr 35mins    
G1341    07:32    09:07    1hr 35mins    
G1509    08:31    10:21    1hr 50mins    
G7325    08:41    10:47    2hr 6mins    
G7349    09:10    10:42    1hr 32mins    
G1377    09:28    11:03    1hr 35mins    
G1657    10:18    11:52    1hr 34mins    
G1349    10:48    12:31    1hr 43mins    
G1375    11:16    12:49    1hr 33mins    
G1327    11:39    13:23    1hr 44mins    
G7591    12:01    13:39    1hr 38mins    
G1387    12:20    13:56    1hr 36mins    
G7335    12:30    14:13    1hr 43mins    
G1369    12:40    14:21    1hr 41mins    
G7375    12:46    14:26    1hr 40mins    
G1659    12:57    14:31    1hr 34mins    
G1389    13:10    14:36    1hr 26mins    
G1329    13:43    15:17    1hr 34mins    
G1355    13:48    15:22    1hr 34mins    
G1303    14:10    15:45    1hr 35mins    
G1635    14:35    16:10    1hr 35mins    
G1637    15:17    16:57    1hr 40mins    
G7337    15:32    17:07    1hr 35mins    
G7321    16:17    18:02    1hr 45mins    
G1361    16:42    18:17    1hr 35mins    
G1363    17:09    18:53    1hr 44mins    
G7385    17:32    19:35    2hr 3mins    
G1393    17:45    19:26    1hr 41mins    
G7323    17:53    19:47    1hr 54mins    
G1367    18:08    19:52    1hr 44mins    
G7371    18:13    20:02    1hr 49mins    
G1395    18:28    20:06    1hr 38mins    
G7339    18:35    20:19    1hr 44mins    
G1227    19:04    20:49    1hr 45mins    
G381    19:15    21:05    1hr 50mins    
G7383    20:32    22:32    2hr 0mins
PRICE:
2nd class: ¥123,     1st class: ¥201.5
*Above schedule is only for reference.  We can buy tickets for our customers who booked our Yiwu market buying agent service.
>> Click to download a PDF version Shanghai to Yiwu fast train schedule / timetable.
TRAIN Termination / Stations:
All fast trains or we call bullet trains from Shanghai to Yiwu departures from Shanghai Hongqiao Train Train Station to Yiwu train station (上海虹桥火车站) . 
From Pudong Airport(PVG) to Hongqiao Train Station:
 Metro No.2, or airport bus line No.1 to Hongqiao train station. They're both very convenient. The full journey is about 75-95 mins.
The green line in below metro map shows you how Hongqiao train station and Pudong airport are connected.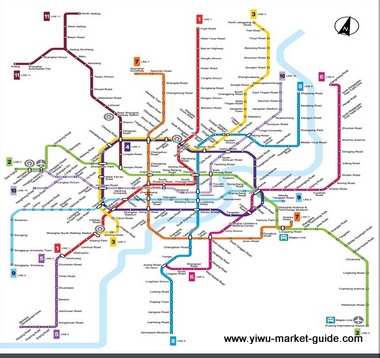 metro from Pudong airport to Hongqiao train station
P.S. Better get someone to buy the tickets one day in advance, because some of the fast train tickets can be sold out by the time you get to train station. 
Yiwu Taxi Tips:
* Share a taxi with others is usual in Yiwu, but ONLY under passengers' permission.  Passengers can refuse to pay if it's not under their permission.
* Always insist putting on meter and ask for receipt(发票, reads "Far, P-ee-or ") before paying fare. 
Contact Us:

---
* We DO NOT sell most of the products you see on this site DIRECT. The pictures are from Yiwu market. NOT our own products. 
However, we may help you find out similar products if you provide product pictures, details & specs, quantity, and target price. 50USD/day sourcing fee may apply. Thank you!
Phone/WhatsApp/WeChat: +86 180 5896 2885

Email: mike.zhou@yiwu-market-guide.com ;
Or leave us a message below:
>> Back to homepage.