2 minutes to understand Christmas wholesale market in Yiwu, China
Suppliers & Products: 600+ suppliers wholesaling ALL types of Christmas decorations;  with 500 factories close-by producing.
Quality & Price: mostly low to medium
Quantity & lead time: minimum order 1 carton, 1 -3 moths lead time.
Buy & Shipping: pay a visit or buy online
Suppliers, Products, Factories:
---
There are more than 500 suppliers inside Yiwu Futian market (Yiwu Intl. Trade Mart), on 3rd and 4th floor of section A in District 1.
Plus 100 + more suppliers on a street market within 15 minutes away from this main market.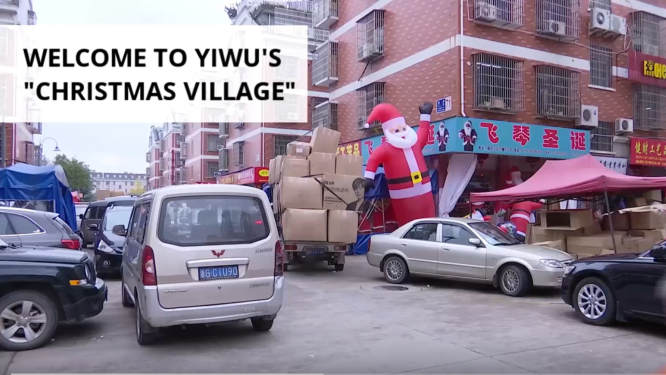 Christmas street market in Futian district 2, Yiwu. Source: Zoomin.TV, 2016
500+ factories in and nearby Yiwu are products all types of Christmas decorations:
A tinsel garland factory in Yiwu, China. Source: RUPTLY, 2017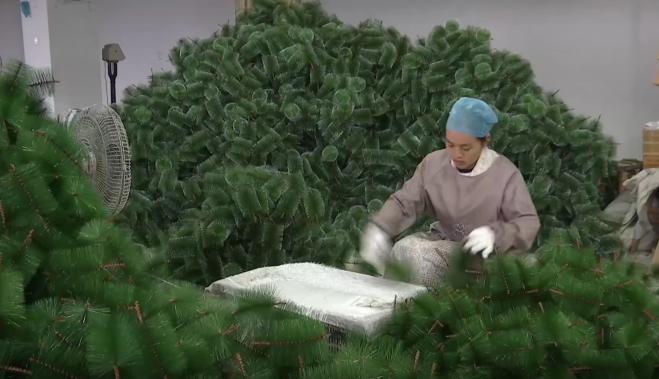 A worker is making Christmas tree in factory, Yiwu, China. Source: Localheroes Zoomin.TV, 2016
Christmas hats are made in a factory near Yiwu. By Tim Maughan, 2014
Christmas wreach were made in a factory near Yiwu. By Tim Maughan, 2014
Price & Quality:
---
Based on the fact that 90% of the Christmas decorations in this market are for exporting, price have to be competitive and quality is relatively low.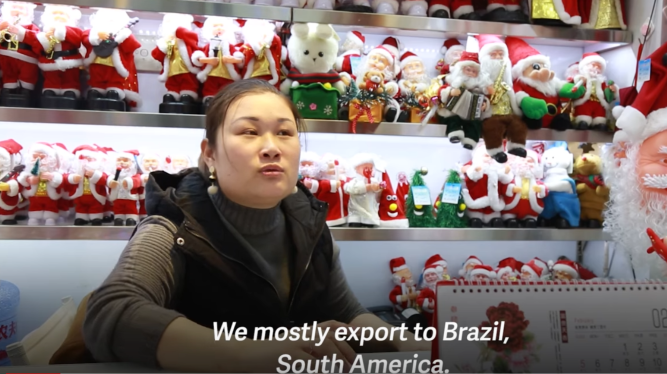 A wholesaler in Yiwu Christmas wholesale market exports most of their products to south America
A Christmas decorations wholesaler in Yiwu market says they export 90% of their products.
Quantity & Lead Time:
---
Most of products here need to be ordered. Minimum order quantity starts from 1 carton. Lead time can be from 1 - 3 month, up to order quantity and factory production. 
Buy & Shipping:
---
Pay a visit is the most efficient way, you can finish browsing the whole market in 2 days and finalize order in another 3 days for a full container mixed of Christmas decorations. The best visiting time is from March to June. Get visa (if needed), book flights, book a hotel close to market.  You can get all these details on go to Yiwu page. 
When you are in Yiwu, you may browse the market by yourself first, then meet some agents after you have potential suppliers, to decide who is going to take care of your orders and shipping. You can download an Yiwu market guide app for basic direction, translation, notes taken, getting online help.
If you're not able to visit Yiwu in person, find a Yiwu agent to see how they can help you without travelling. Most of agents can help you somehow.
Related Links
---
Contact Us:

---
>> Back to homepage.