Buy jewelry from Yiwu wholesale market without travelling
Yiwu Sofia Italian Restaurant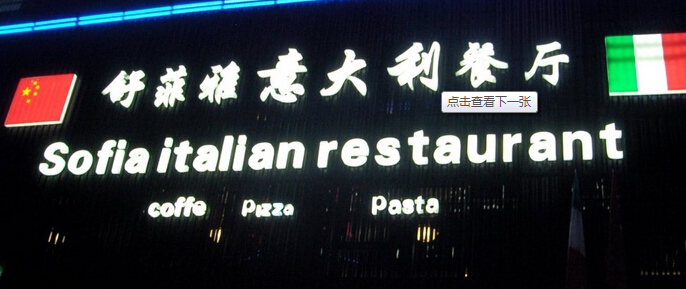 GOOD Italian food, close to Yiwu Futian market/International Trade City(center). We have been eaten there several times with our customers from Europe and Australia. All GOOD. Never let us done.
Hotels Nearby:
---
Best Western Ocean Hotel,
Sanding New Century Grand hotel,
Yourworld International Conference Center,
Yiwu Morgan International Hotel,
Marriott hotel(under construction),
and one of the good small hotels close to Yiwu Futian market
How to get there? Location?
---
Yiwu Sofia Italian Restaurant is located at:
No.971 Gongren N Rd. In Chinese 工人北路971号.
If you stay at Best Western Ocean Hotel, this restaurant is just one block away, within 10 mins walking distance:
Walk out of hotel, turn right, keep walking 50 meter, you reach Chouzhou N Rd; Cross(by the overpass bridge); keep walking, cross this block(should be another 100 meters), you reach Gongren N Rd. You shoul be able to see this restaurant with both Chinese flag and Italian flag on the other side of road.
Here is a map: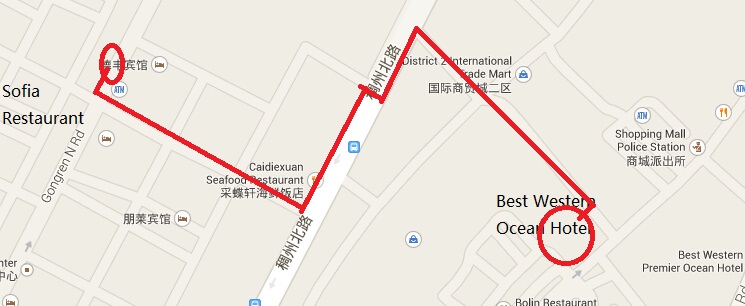 If you stay at other small hotels close to Yiwu market, you just need to get onto Gongren N Rd (工人北路), these hotels are all along this road, you should be able to find it according to the door no. this restaurant is located at No. 971. Ten minutes walking should be enough.
Hope this info. can help you enjoy the best Italian food in Yiwu.
>> Back to Yiwu restaurant.
Contact Us:

---
By phone/WhatsApp/WeChat: +86 159 2428 6660 (* We may not reply you immediately, please keep leaving detailed messages on this number to help us understand exactly what you need, so we can reply you much faster. Thank you!);
Email: yiwumarketguide@gmail.com;
Or leave us a message below:
>> Back to homepage.