Yiwu Market Opens Up After CNY Holiday!
Buy Jewelry Findings and Accessories from Yiwu

50 Times Profit?
Are you thinking there was a typo in above subtitle? There should be a 5 , how can it be 50? The answer is No! I triple checked.
"I was thinking about the fascinating prices here" Said M (to keep her privacy, I simply call her M) from Europe, as we were driving back to Hangzhou airport on high way.

Then she started do calculations. As the currency she used was Euros, and I was driving, so it's hard for me to get the exact numbers. After she seemed finished calculation, I simply asked her "how many times is the profit?" "50 times"

"50?" I nearly dropped my hands off the wheel. (that's dangerous as we were driving on the highway at 130 km/hour.) "you mean 50 times?"

"I supposed we were all ripped off before, even when we bought them from Beijing" "Maybe I should just import rolls?" She said.

The "rolls" M said are the big rolls of elastic cords for making bracelets. Usually for connecting crystal beads together. Here is a picture: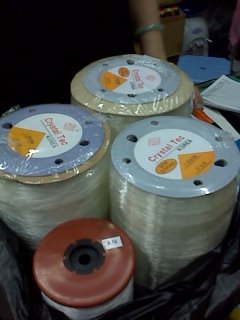 cheap elastic cords
What surprised me more is: these rolls actually were not produced in China, they were imported from Korea. M tested all the rolls in the shop and finally picked up the "imported from Korea" ones. So there should be no problem about the quality. Definitely not "another piece of junk"

Then I understood finally why she didn't bargain at all while shopping. She just kept collecting and paying money. (Went for ATM twice, and also paid some Euros as there were not enough cash in RMB). Even in the last 10 minutes before leaving, she had another browse upstairs for porcelain beads.
What she bought were all jewelry findings and accessories like rose quarts, smoky quarts, onyx, agate, jade, garnet, nickel free clasps, and elastic cords… many of them I cannot name. (Sorry, I'm not an expert on that) Beside these findings, she also found one supplier with good price OPP bags and plastic envelops with whom she would probably place orders in coming weeks. 
Here're a few pictures :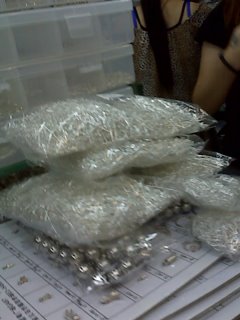 cheap jewelry clasps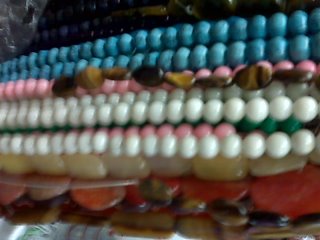 cheap stone beads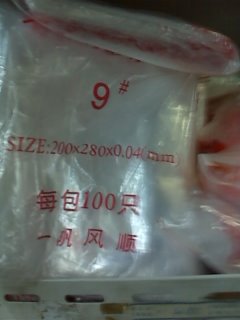 cheap jewelry plastic bags
Once again, I felt the power of Yiwu market and the reason why so many buyers came to Yiwu. This marketplace is truly a shopping heaven for small buyers like M.

During the 8-hour-nonstop-shopping, M paid around 8,000 RMB / 1168 USD for one suitcase (she bought that right inside the market) of jewelry findings. Then hand carried back to Germany. 

She also found some other opportunities about jewelry findings which seemed would grow big during this trip.

M had a home based jewelry business. She designs, makes, sells her own brand jewelry, as a part-time job. As the turnover increased, she decided to find better prices. After a research online, she came to Yiwu for a 2-day visit. (She had been to China for 5, 6 times before and spent 1.5 years studying Chinese. So can speak Yi Dian Dian Chinese)

As she can reduce some of her cost by 500 times, so I'm sure she will turn a lot more profit from that suitcase, if everything is on track. She's planning to become independent and run her own business soon. God bless her.



In an email to me after-wards, she told me that she would have to come back again in next spring to buy jewelry findings and accessories from Yiwu. 

Urm, 50 times profit! I'd better let her re-calculate this. 
Related Links:

>> Back to Yiwu Market Products
Contact Us:

---
>> Back to homepage.