Yiwu Jewelry Market
Location: 2nd Floor, District 1 of International Trade City.
Scale: about 2,000 showrooms.
Products: fashion jewelry, costume jewelry, classic jewelry, jewelry packing and displays.
Opening hours: 09:00-17:00(GMT+08:00),7x365, except a 15-day-close down during Spring Festival.
Yiwu Jewelry Market sits on the second floor in district one of Yiwu International Trade City . This entire floor is the home for around 3,000 booths of jewelries and hair accessories. Fully air-conditioned, cleaned up every day. So it's overall not bad, but sometimes it's pretty crowded with visitors and carry-out boys.



Jewelry Market Shops:
---
A typical booth is about 4X4X3 meters, has two or three shop assistants, and displaying products as much as possible. Rings, nose rings, men's hair bonds, kids' hair clips, gold plated necklaces, diamond rings... are all displayed here.

The segmentation is also good, you can find one stall only displaying a few styles kids hair clips, while its left hand neighbor having different styles, and its right hand neighbor only does hair bonds.
So you can easily know if they have what you want just by a single glance from outside.
Prices vary from a few cents to a few hundred dollars, and you can find really good dollar store items here. Minimum Oder varies from dozens pieces to a few hundreds.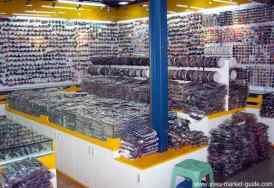 Getting samples is quite impossible with most suppliers, unless they have spare ones.
Most of the shop assistants or shop owners, you can call them all "laoban", pronounced "Lorban", have no difficulties quoting a price or dealing with other simple questions in English. But if you want to go further, you may need a translator.
And you'd better not expect warm service each time. After all, this is just a small city in China, the overall service level is not as good as in many developed countries.



Yiwu Jewelry Market Video:
---
Any Bargains In Yiwu Jewelry Market?
---
You can usually find some bargains. As this market is connecting with tens of thousands of factories. So there are clearance sales, or leftovers now and then. These items are usually much cheaper, yet have the same quality.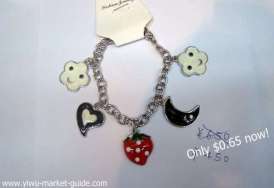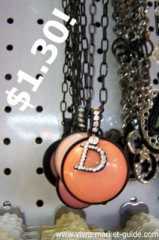 The hand chain was actually tailored for a buyer, but unfortunately the buyer reduced his order in the end. So these are leftovers. The necklaces are all clearance sales.



Suppliers In Yiwu Jewelry Market:
---
Ms. Luo, a pleasant elegant lady. She can always handle your things properly. She is wholesaling all kinds of alloy necklaces, chains, earrings, corsages, cell phone chains and key rains.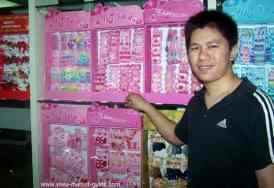 Mr. Xu, manager of a big ornaments company in Yiwu. An upright, easy-going, and smart guy. His company produces lots of ornaments from hair accessories to fashion jewelries. He is recommending me the latest hot-selling "All-in-One" package hair accessories for kids. With this package, kids can wear different hair clips, hair bonds, or headdress flowers each day in a week.
Ms. Wang, reluctant on cameras, but you all can see she has a charming smile worth a thousand dollars -:), she insists that should worth more. Anyway … I agree. Doing business with her is always a pleasant.
She is the business manager of a medium-sized jewelry factory in Yiwu. They are strong at OEM. The factory is an ISO9001:2000, also ISO14001:2004 one. They also have SGS. You can see the products behind her, these are only some of what they can OEM.
One more thing, she has good computer skills and can type complete GOOGLE domain name without any mistakes in an IE browser, that's not something I can do. They can also do exporting business by themselves.



Sourcing Dos and Don'ts In Yiwu Jewelry Market:
---
Light shoes, comfortable clothes, backpack or a pulling luggage for samples, and a bottle of water are your necessary equipments. Walk slowly while browsing. Wearing high heels or walking in quick steps are big No-No.
It can take one or two days if you want to have a though browsing. But it worth your efforts, as this is another big window for China made products and China suppliers.
So do it in a relaxing way and browse according to the booth numbers, instead of your walking directions. In this way, you can cover the most things.
As jewelries are a designs game, or a styles game. So many laobans are very sensitive about their new babies.
You may not find anything new by just browsing, but if you think they can supply that type of thing, you just go ahead to ask them whether they got anything new, sometimes they could bring you new designs that were intentionally hided somewhere.
A big secret :-), they're usually beneath the old ordinary ones.
When you want to take photos, do not ask question like "Can I take a photo?" 9 out of 10 you will get a "no!".But you can talk to them a little bit and make some relationships first, explain why taking a photo is a better choice for you.
9 out of 10, you can get what you want.




Related Links:
---
buy alloy jewelry from Yiwu China
buy lead-free jewelry from Yiwu China
buy nickel-free jewelry from Yiwu China
buy classic jewelry from Yiwu, China
buy jewelry findings and accessories from Yiwu
buy jewelry from Yiwu, China



>> Return to Yiwu Market from Yiwu jewelry market

>> Back to Yiwu Market Guide Homepage