Maybe the Best APP for visiting Yiwu Market. FREE!
Jeff - Professinal for Bags / Cases / Luggage in Yiwu China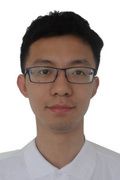 Jeff Lee
3 years bags, cases, luggage sourcing experience. Helped various customers buy from China.

Solid factory sources, can help customers customize many different types of bags, cases and luggage.
Rich sourcing experience, can offer best prices based on customers quality.
Helped several international brands have their products made in China and exported out of China.
Knows Yiwu market like his own hands, always keep eyes on the latest trends.
Products Recommend:
>> Back to Yiwu Bags / Cases / Luggage market.
Talk To Us:

mike.zhou@yiwu-market-guide.com 

+86 180 5896 2885 (Mob./WhatsApp/iMessage/WeChat) 
China Time Now:
>> Back to homepage.