Buy jewelry from Yiwu wholesale market without travelling
Ben Deng at JIN-JACK Canton Office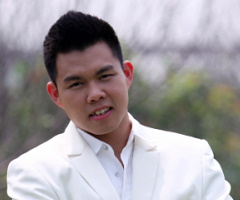 "It's Ben!"
---
Hi, I am Ben...I didn't have this name until I was 19 years old. It was my high school foreign teacher gave me this name. A name I only used for my English class.
However, because this name is so easy to remember and pronounce, now even my families start calling me Ben. So... it's Ben. 
My Experience
---
After graduation in 2005, I spent 3 years in a forwarder company. They're actually a part of Cosco. My job was to get people using our shipping service, and arrange one-stop shipping for them.
My clients are factories, foreign trading companies, and overseas buyers.
This job gave me a good opportunity to access to lots of practical shipping knowledge. I formed close relationships with shipping giants like K-LINE, HAN JIN, COSCO, MSK, CSCL, and TS LINE. This helped me a lot while others were having difficulties booking shipping space.
I also acquainted with local customs. This gave me more options while we were having trouble with shipping out special cargo.
My recent years was in export business for a medical care products, furniture, and a lot more products out of Canton.
This job helped me acquire all necessary skills in foreign trade. I also became quite professional at medical care products. I can always provide valuable advices to buyers, help them make good decisions.I was as excited as my customers after they finalize a good buy. 
To Sum Up:
Honesty, profession, dedication. You'll succeed!
Slowly but steadily.
Why I Join JIN-JACK ?
---
Coincidentally, Jack was my teacher when I was in high school, since then we've known each other better and better and our minds are very close.
He is the few men I met with integrity and honesty character, AND with enough knowledge, skills, and motivation to pursue his dream. He is also a man who knows win-win and does win-win.
We had planned for 2 projects before, but unfortunately, none of them were put into action. When we met each other again recently on one of his business trips, he asked me "Shall we …" I answered without a second thought: "Why not?"
I'm very positive that with our experiences and knowledge both in Yiwu markets and Canton markets, AND with our shared work ethics and values, we can keep bringing more value to our customers. 
>> Back to Yiwu Jin-Jack Imp.&Exp.
Contact Us:

---
* We DO NOT sell most of the products you see on this site DIRECT. The pictures are from Yiwu market. NOT our own products. 
However, we may help you find out similar products if you provide product pictures, details & specs, quantity, and target price. 50USD/day sourcing fee may apply. Thank you!
Phone/WhatsApp/WeChat: +86 180 5896 2885

Email: mike.zhou@yiwu-market-guide.com ;
Or leave us a message below:
>> Back to homepage.