Buy jewelry from Yiwu wholesale market without travelling
Wholesale Bags Yiwu, China
- By TONY
Variety:
#Sort by function: briefcase / laptop bag / camera bag / cosmetic bag…
#Sort by style: man bag / woman bag / handbag / school bag / travelling bag…
#sort by material: leather bag / PU bag / PVC bag / EVA bag / canvas bag…
All those kind of bag, you can easy find it in 1st floor of No.2 building of Yiwu market.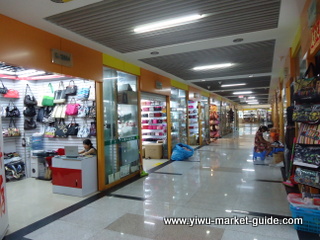 Suppliers:
The booth No. of bag & suit case begins from 10008 to 12524.That means there is about 2,500 supplier for this kind of product.
1/3 of booths have their own brand, have their have their own factory and can offer more quality guarantee.
1/3 of booths have their small processing workshop (maybe 10+ staff). They show their own product, and also others samples from other factories.
1/3 is the agency of factory. They show lots of bags: men bag, school bag, travelling bag….This kind of suppliers usually collect same style bags from different manufacturers.
After you walk around those booths and browse their products, you will find a lot of "me-too". "me too", "me too", "me too"… They are the same product come from one same factory.
You may ask the supplier "Are you manufacturer?", their answer is always "yes, we have the factory." Actually, they are "agency" of factory. One factory can have up to 10 different "agencies" in the market.
You can easily get a reasonable price after asking several booths. It's just a waste of time listen to them saying "we have better quality"!
Price and MOQ: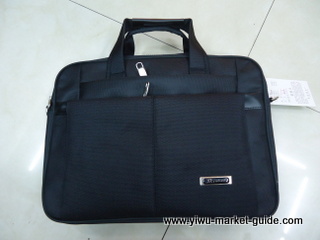 Nylon fabric laptop bag, MOQ 100pcs, wholesale price $5.3
Canvas school bag, MOQ 100pcs, wholesale price $2.61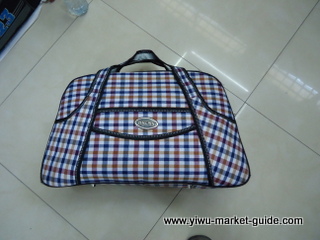 Canvas Baggage, MOQ 100pcs, wholesale price $1.74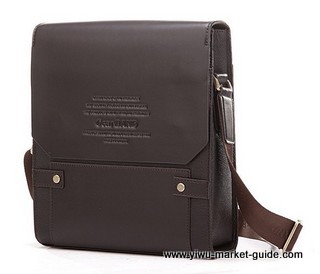 PU man bag,MOQ 100pcs, $ 5.1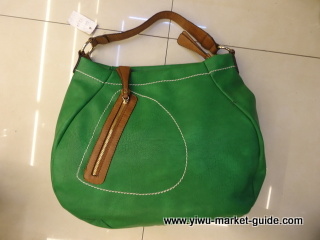 Artificial leather lady bag, MOQ 50pcs, wholesale price $8.7
>> Return to wholesale products in Yiwu China from wholesale bags Yiwu China
Contact Us:

---
* We DO NOT sell most of the products you see on this site DIRECT. The pictures are from Yiwu market. NOT our own products. 
However, we may help you find out similar products if you provide product pictures, details & specs, quantity, and target price. 50USD/day sourcing fee may apply. Thank you!
Phone/WhatsApp/WeChat: +86 180 5896 2885

Email: mike.zhou@yiwu-market-guide.com ;
Or leave us a message below:
>> Back to homepage.