11 FAQs about SS (Stainless Steel) Jewelry Wholesale in Yiwu Market, China
- by Lily Yang, an experienced jewelry agent in Yiwu market since 2013.
how many suppliers and what are there?
what are the stainless steel jewelry there are made of?
what colors are available?
can i have a price idea?
what order quantity is required?
how long does it take to deliver products?
what about shipping?
can i have catalogs?
can i get samples?
do they provide certificates?
how to buy?
1. Supplier & Product
---
Around 65 suppliers like above pic are inside the market only for Stainless steel jewelry. Every booth starts from 1,000 styles.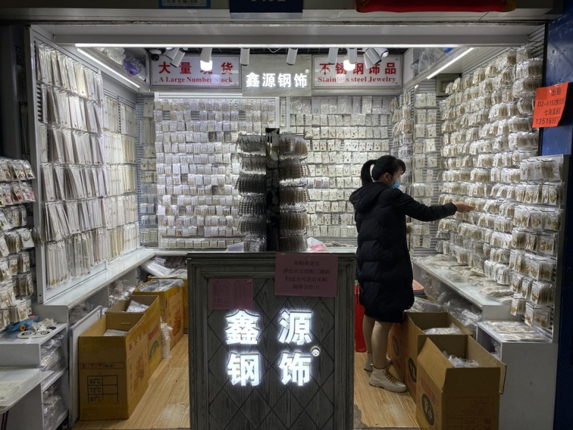 This supplier opens their shop in YIWU market for about 8 years, every 2-3 weeks they have new design update. Their factory is in Guangzhou. They have big quantity of stock. Everything you can find in the photos. You can directly buy from 12 pcs/style. If you want more quantity, you can wait for one or two weeks to get.

2. Material
---
Main grade material to make jewelry is 201 stainless steel, 304 stainless steel and 316 stainless steel. 
316 stainless steel is more expensive and high quality then 304 stainless steel. 201 stainless steel is cheapest but will be rust if your customer wear this in moisture area or some special environment. 
If you mind this, you can check with supplier when you are in the booth. But most of them is 304 SS. 
3. Colors
---
1. Stainless steel color.

2. Gold plated color: 14K Golden/18K golden/Rose golden,  plating thickness (e.g. 0.8 μm).
60% stock in golden color, 30% in SS color, 10% is rose golden color.

4. Price 

---

EXW price for my above pic is 2.0 rmb/set - 2.5 rmb/set , depends quantity and designs.  Most of them are about 0.30 USD per set. If you want to know price idea, just tell me hearts / butterfly in golden color. For one supplier, I can give you 20 designs to choose from.
5. Quantity
---
12 pcs/design for stock in the shop. MOQ (minimum quantity) can be 12 pcs/style. But they will be unhappy if you only buy 1 style, better choose start from $150 total amount. If you can't get a lot, you still can buy, but take away directly from the shop.
120 pcs / design, if they don't have stock and only samples in the shop. MOQ needs to be 120 pcs / design.
Special customized designs(your own design), MOQ depends on the design/colors, can start from 1,200 pcs.
6. Lead Time
---
If have stock you can take away on their booth directly. Ready.
7-10 days if for their regular designs. They need 7-10 days to produce, pack and ship.
30-60 days for special order. For customized designs, it takes longer time to prepare, sample, confirm, then produce.
7. Shipping
---
Supplier here quote EXW price in here market. Shipping not included.
If you can buy more the $350/booth, they can free delivery in YIWU area. (Like to an agent warehouse, I can provide the service, help you shipping by FEDEX/DHL/SF express so on.... at a better rate)
8. Catalog
---
Booth here don't have catalog, they can't provide. Because every week they have update some new design and cancel some old design. But if you have already established relation with vendor, you can let them send you new design pic when they have.
I will provide a catalog here from my vendors for your reference, will keep update when I get the news.
9. Samples
---
For new customer, they will not provide sample or you pay samples fee (Like $50/style) then they can provide, this fee some vendor can refund after orders.
So if you want sample, for my suggestion, start $150-200 orders with vendor you have interests.
The customized style can be sampled after discuss sample fee.
10. Certificates
---
Some country they ask certification.  Like REACH in the EU and CA Prop 65 in California, USA,  supplier here can't provide it. But if you want, you can tell your agent certification name. They will discuss with supplier and let they provide the right goods then send to labs to get right certification. 
(If you have complicated requirement, you should have agent in China to help you deal with vendor regarding all of problems)
11. How to buy?
If you come, i will provide a list of all the shops here that offer stainless steel jewelry based on your needs. (I may be able to provide a full list here very soon for all stainless steel shops in the market here).You go and select potential suppliers on your own. I can help follow up. You may need to download an app for visiting Yiwu market for direction, translation, online help etc... 
If you don't come, please send me:
A. Your interesting style pic
B. Your quantity per style
C. Your products quality (Like do you need certification/ stainless steel grade and so on)
D. Your business background (This will be help us know more about you to match right vendor, like online business or shop, new buyer or experience buyer, retail or wholesale)
E. What you expect we can provide.
You can download a template here for information needed for finding SS(stainless steel jewelry) from Yiwu market. (I will provide very soon).
That's all for today. Hope you like it. Like us below and contact me if you are interested to buy stainless steel jewelry wholesale from Yiwu market.
Related Links
---
Agent:
---
Contact Us:

---
>> Back to Yiwu market products
>> Back to homepage.