Buy jewelry from Yiwu wholesale market without travelling
50 cartons of 110cm new lush wisteria ship to Rajkot India
by Girish
(Rajkot , India.)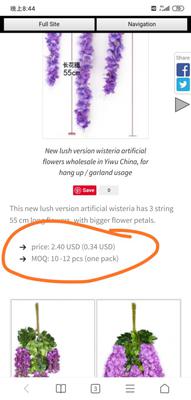 Hi, this is Girish from Rajkot , India.

How much if i order 50 cartons of 110cm new lush wisteria ship to Rajkot India?

I live in India where I buy wholesale goods from Ahmedabad with Artificial Flowers from wholesale. I have China to buy goods and if there is an idar batch, then what tax do I have to pay? If I ask for your goods, how will I pay for the payment. price in Indian currency.How do you send me that product and when will I receive it?
Contact Us:

---
* We DO NOT sell most of the products you see on this site DIRECT. The pictures are from Yiwu market. NOT our own products. 
However, we may help you find out similar products if you provide product pictures, details & specs, quantity, and target price. 50USD/day sourcing fee may apply. Thank you!
Phone/WhatsApp/WeChat: +86 180 5896 2885

Email: mike.zhou@yiwu-market-guide.com ;
Or leave us a message below:
>> Back to homepage.