Featured Manufacturers, Suppliers, and Wholesalers in Yiwu Market
*Mrs. Guo with her new handbags inside her shop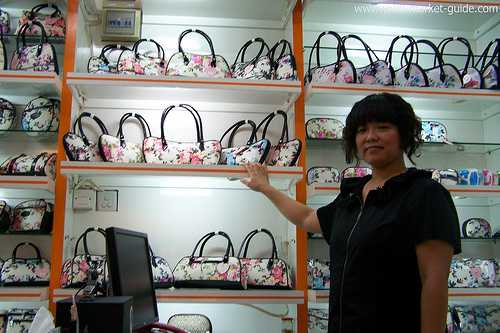 Mrs. Guo's business is a typical one in Yiwu. Her factory is in one of Yiwu industry zones, just a few Kms away from Yiwu International Trade City.
It is truly a "Shop in front and factory in backyard" model.
Her factory is a small one, has around 50-60 staff. She is already inside handbags business for 8 years.
When in the "good old days", her factory was fully loaded with orders all year round. She had no brand, no certificate, and not much effort for designing new models. But orders just kept coming in.
Then things changed in late last 2008. No more order!
But this was a good chance for Mrs. Guo to stop and think. "Now we've registered our own brand. We devoted much more efforts on designing and quality control."
The handbags behind her are their new designs just came out. Now they already had orders for these new bags from Korea and Signore.
She was more than happy to bring us their new model. I found her price was also very good.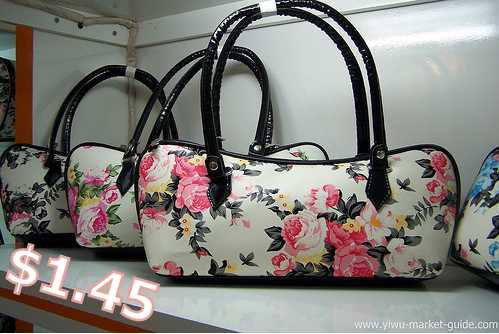 *Mr. Shen in his shop of cosmetics cases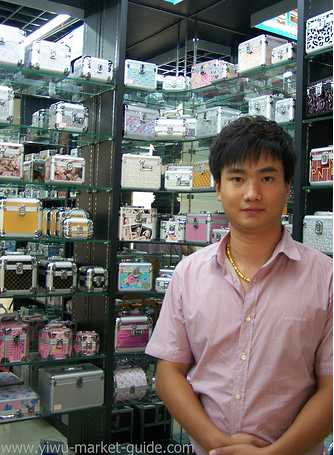 Mr. Shen, my new friend inside the market. I do not know much about him, but I do like their brand building efforts.
He attended Canton Fair this year, and of course, he won't miss Yiwu Fair in October. "Whenever there is a major fair relate to our products, we would surely go for it"
I saw some beautifully printed brochures and catalogues inside his shop. He also started to use some online tools like B2B websites.
They have two shops inside this market for their products: cosmetics cases, tool boxes, health care kits cases, chip boxes... Their factory is one of the top aluminum case producers in Zhejiang province.
Many of his cases are really beautiful. This cosmetics case is what he brought for us:
*Serena inside her booth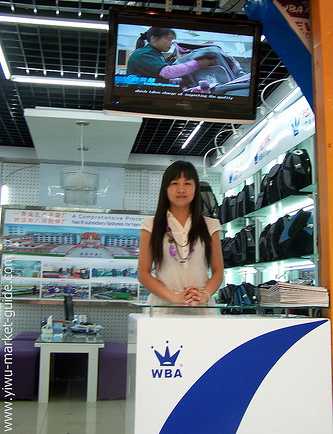 Serena works for a HK company for outdoor backpacks, laptop bags, and suitcase.
They set up two shop fronts inside this market. This one is for outdoor backpacks and suitcases, the other one is solely for laptop bags.
Their brand is quite strong, with 25+ year's history, and several design patents.
Their factory is a large one, covers more than 32,000 m2 and has over 2,000 workers making bags inside.They can produce a 40 feet container bags per day.
It's also interesting that they have 8 subsidiary factories for bags and cases accessories, to bring down the final price jointly.
Both quality and price make them very competitive. Below is a 36x29x45 outdoor backpack she recommended to us.
More About Yiwu Bags and Cases Market
What's New and Hot,in Yiwu Bags and Cases Market?



Any Bargains in Yiwu Bags and Case Market?



>> Return from Featured Manufacturers, Suppliers, and Wholesalers in Yiwu Market to Yiwu Bags and Cases Market.

>> Return from Featured Manufacturers, Suppliers, and Wholesalers in Yiwu Market to Yiwu Market Guide Home Page.