Yiwu International Expo Center
Yiwu International Expo Center will be put into use for Yiwu fair 2009 as the main venue. Below are some information about it:
The whole complex is made up of an exhibition hall and a 28 floor 5 star hotel. With Yiwu library, Meihu exhibition center, Yiwu stadium, Yiwu swimming gym as its next door neighbors, Yiwu expo center makes this district a truly exhibition area and public activities place.
Yiwu International Expo Center location:
Yiwu hotel, Kaixin hotel, YiWu Intermational Mansion is all pretty close to it.



The main exhibition hall has 2 floors on the ground and 1 floor under ground, the total building area reached over 240,000 square meters, 10 over ground exhibition halls and 4 underground small exhibition halls are set up inside.
The main exhibition hall has enough room for 5,256 international standard booths. its overall budget is estimated to exceed 1.8 billion RMB/ 200,000 USD.
After one year hard work, the building now is already 95% completed, more than 1,200 workers are working overtime day and night to complete the whole project before Oct. 2009.
Here is a photo from my office window. Not very clear as today is a bit misty :-(
Yiwu International Expo Center from my office window: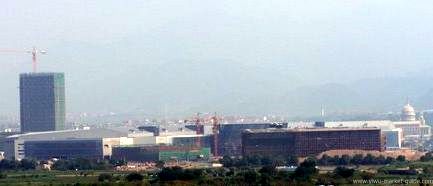 >>
Return to Yiwu Fair 2009 from Yiwu International Expo Center
>>
Back to Yiwu Market Guide Home