Shanghai to Yiwu Fast Trains
What Are Fast Trains?

The VERY fast train, G Train, from Shanghai to Yiwu lunched end of 2014. This new train(actually new railway) makes the whole journey even shorter, only one hour and a half. The old D train retired. Other trains are too slow, not recommended.
* Train is only recommended if you have tickets in hand, and you are familiar with train transport system, and you have at least 45mins in train station prior departure. During holiday time, train stations are usually packed with people, can easily lose time from line up to line up.
Otherwise, i recommend you book a private car / taxi between PVG airport and Yiwu, or book a private car / taxi between Shanghai hotel and Yiwu hotel.  Door to door.
Schedule/Time:
-Updated on Jun.10, 2014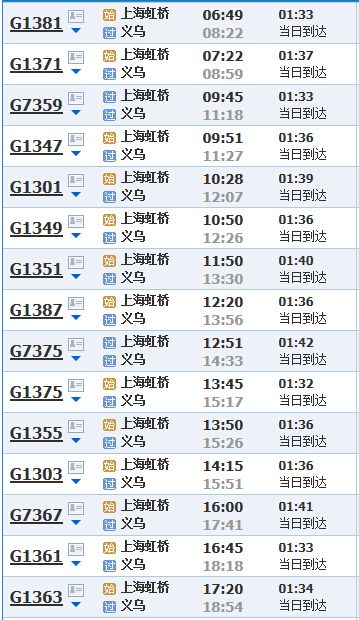 *For the latest train time, please go to www.12306.cn. We can also book tickets for our customers in advance.
Termination / Stations:
All fast trains or we call bullet trains from Shanghai to Yiwu departures from Shanghai Hongqiao Train Train Station to Yiwu train station (上海虹桥火车站) . 
From Pudong Airport(PVG) to Hongqiao Train Station:
 Metro No.2, or airport bus line No.1 to Hongqiao train station. They're both very convenient. The full journey is about 75-95 mins.
The green line in below metro map shows you how Hongqiao train station and Pudong airport are connected.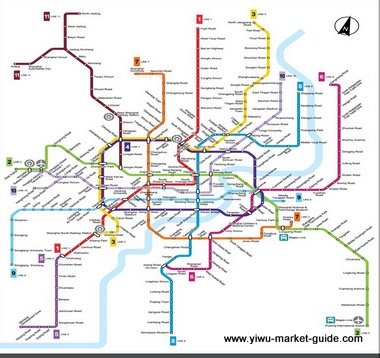 metro from Pudong airport to Hongqiao train station
P.S. Better get someone to buy the tickets one day in advance, because some of the fast train tickets can be sold out by the time you get to train station. 
Yiwu Taxi Tips:
* Share a taxi with others is usual in Yiwu, but ONLY under passengers' permission.  Passengers can refuse to pay if it's not under their permission.
* Always insist putting on meter and ask for receipt(发票, reads "Far, P-ee-or ") before paying fare. 
Have A Question / Story for Yiwu Market?
Do you have a question / story about Yiwu market? Ask / Share today!
>> Back to homepage.